Only have 15 minute lunch break? This takes 9 to make.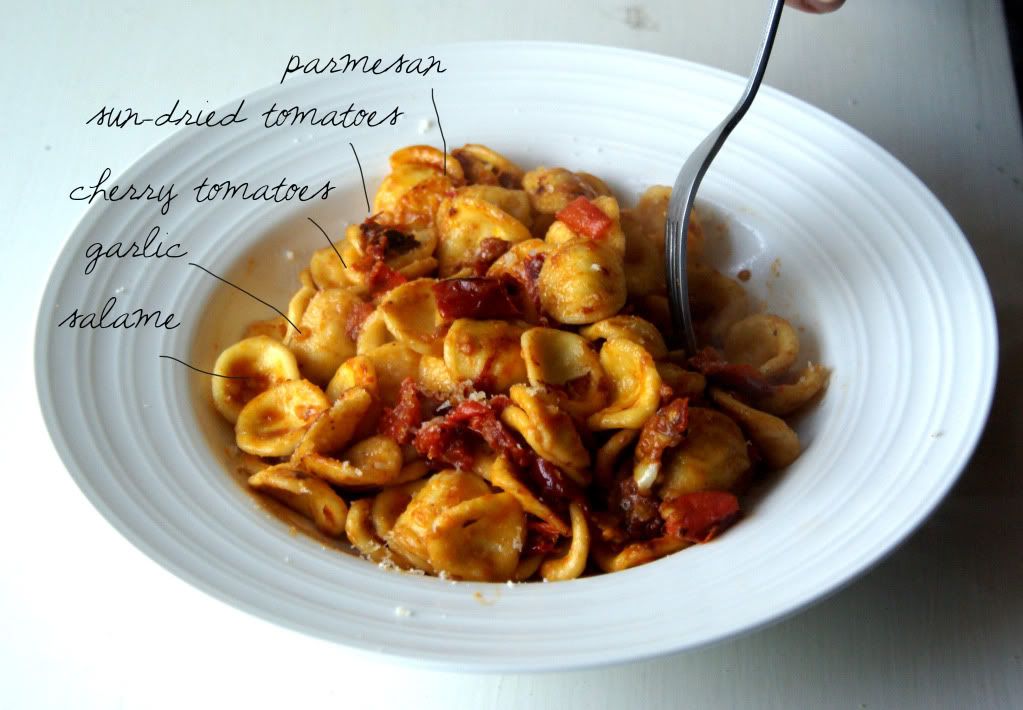 That's why I love making pasta. For this, it's just the time to cook the pasta plus combining the ingredients together.
I made these with orecchiette, which literally means "little ears". They're actually from my father's region in Italy, Puglia. Aren't they cute?
Anyway, I made this for my friend, Elliott. He's actually the reason I named this blog "Happy Belly". He always does this ridiculous heart with his hands, not the usual hand heart with the thumbs forming the bottom point of it, no, that's cute. He does it the other way around, making the heart look limp and thin He always does it over his stomach -- and I thought, love in the belly, happy belly.

Ok I'll stop boring you with these anecdotes. This is a dry sauce with both fresh and sun dried tomatoes. I actually pickled the tomatoes myself! But that'll be another post :)

Ingredients
Pasta
Sun dried tomatoes
Cherry tomatoes
Salame
Garlic
Parmesan
Method
Cook the pasta until al dente. While it cooks, make the sauce.
Chop everything finely and place everything together in a pan over medium high heat. Keep tossing it around and let the flavors get to know each other for about 10 minutes.
Add the pasta. Remember, keep it very al dente because it will still cook in the pan. Anyway, add the pasta and a bit of the pasta water.
Stir until well combined and give it a generous grating of parmesan and a drizzle of olive oil.