People get so squeamish about cooking lobsters at home -- poor little harmless creatures suffering through seconds of burning pain as they drown in a pot of boiling water. How excruciating it must be for them. How cruel. You know who I feel sorry for? The poor mussels in your bouillabaisse soup. Mussels and other shellfish of the sort just don't receive the same sort of sympathy. We seem to forget that we're also cooking them alive.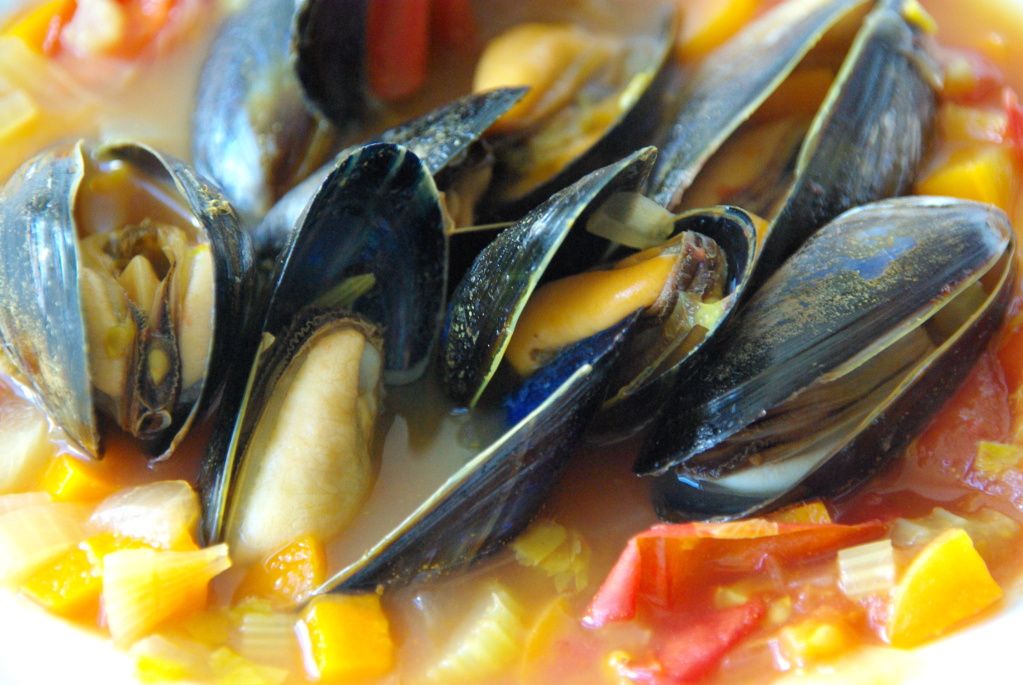 Cruelty aside, they're wonderfully easy to cook/kill. First, discard the ones that are already dead -- the ones that don't respond. Tap them or something, see if they open up or close. See if they're gasping for air, grasping onto their last few momentsof life. I've long been desensitized to these things.
Ever since I started enjoying food. Forgive me, vegetarians, I feel no remorse. Anyway, bin the ones that are already dead. Clean and rinse them throughly. Pull their beards off. Scrub with a stiff brush to remove sand and such. Don't let them sit in cold water or else they'll die as well. Then it's simple -- usually you begin with hot liquid in a pot. It can be a mixture of white wine, stock and herbs. Here I had a nice tomato based soup. Read up recipes, experiment. Bring to a boil, lower it to a simmer then add the mussels and they're done when they're all open. The ones that don't open -- bin them. The whole process takes about 5 to 10 minutes. You can remove each mussel from the pot as soon as it opens to avoid over cooking some of them if you wish.