In Berlin, everything's organic. These organic "Bio" signs are seen at restaurants, McDonalds, and street food stalls. In this residential area that I live in, all the little grocery stores sell only organic stuff. Now, at first I was super excited, but then.... It's all so expensive! I agree that some things should be organic. Eggs, meat, milk, some fruits and veg like strawberries, nectarines, celery, apples. Yes, but some things, like cabbage and onions, you can just remove the outer pesticided layer. Bananas - the skin's so thick, the pesticide won't go through. I personally don't want to spend twice as much on organic bananas.
So I was at the supermarket yesterday and..well, bought organic zucchini, tomatoes and all that, and I made this warm side dish. A lot similar recipes using zucchini strips are called "paleo pasta", but as an Italian I simply can't. This is just a warm salad.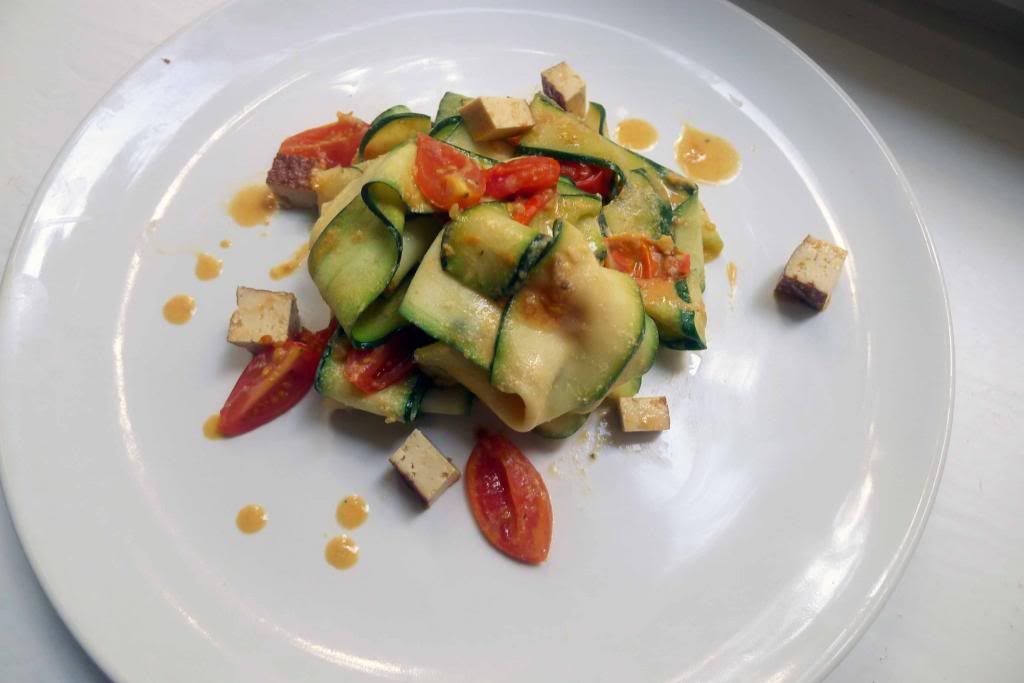 Serves 2
Ingredients
2 medium zucchinis
1 garlic clove
2 cups cherry tomatoes
1 cup cubed smoked tofu
1 ½ tbsp. tahini
juice of ½ lemon
Method
Mince the garlic, quarter the cherry tomatoes, and shave the zucchini into long strips with a vegetable peeler.
Heat some olive oil in a pan over medium-high heat, and when hot add the garlic. Fry until fragrant, about a minute, then add the tomatoes. Add about ½ cup of water and fry for a couple of minutes until softened. Add the tofu and fry for another minute before adding the zucchini strips. Stir in the tahini, lemon and season with salt and pepper.