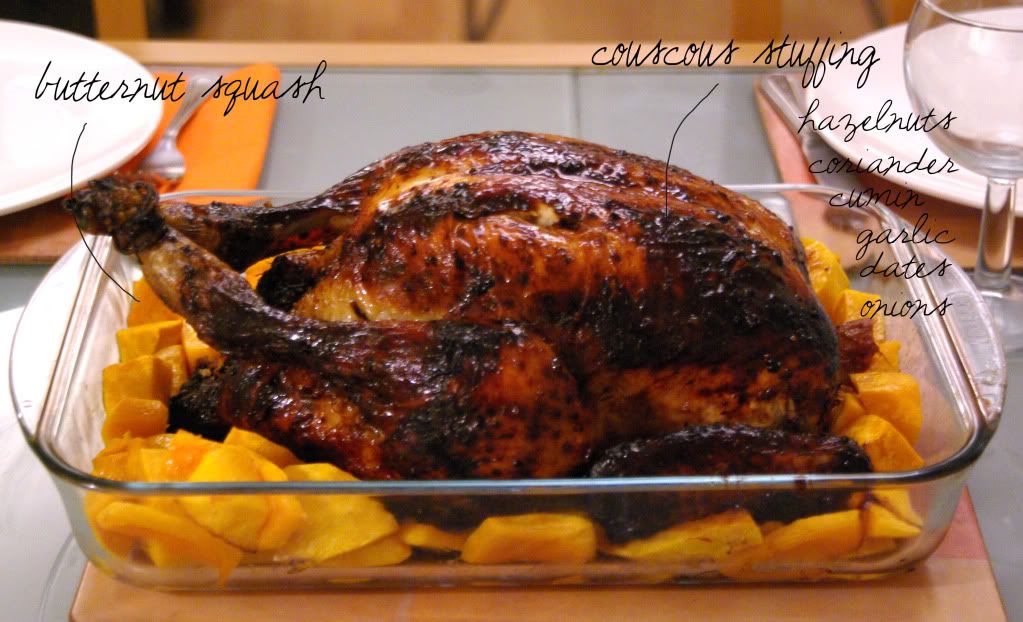 I love an excuse to cook a roast. I love roasts, but I can't always justify making a roast just for myself. The easiest/cheapest would be chicken. And everyone loves chicken so it's always a safe choice. So my friends came over last night and I made a Moroccan spiced roast chicken with couscous stuffing. Oh it's as good as it sounds. It's got honey, dates, nuts, spices, cinnamon. All things good.
I wish I could take full credit for this but unfortunately it's not my recipe. I'm still in the experimental stage for roast chicken because, believe it or not, I THINK this is only the second roast chicken I've made. But I'm getting the basics so soon there will be an original recipe hopefully. Anyway, this was so good. So good. It's got delicious Moroccan spices and honey rubbed all over it and best of all it's got couscous inside. Couscous, that's been slowly cooked inside the chicken and absorbing all it's goodness. Again, as delicious as it sounds. The cous cous was my favorite bit. It was sweetened with the dates and spiced with the cumin and coriander. To reinstate this just once more, it was divine.
I need to thank my wonderful flatmate, Sarah, for all these beautiful photos. She was there to document the whole beautiful process. So, yes, thank you, Sarah.
Recipe adapted from
here
Prep time: 30 min Cook time: 1 hr 20 min Serves: 5 Suitable for: a nice dinner party with friends that haven't eaten your food in awhile
Ingredients
1/2 cup couscous
1 cup chicken stock
7 dried dates, roughly chopped
1 medium onion, finely chopped
2 garlic cloves, minced
1 tsp ground coriander
2 tsp ground cumin
1/2 cup hazelnuts, roughly chopped
1 cinnamon stick
1/4 cup olive oil
2 tbsp runny honey
1 tsp cinnamon
salt and pepper
2 small butternut squash
Method
Preheat the oven to 200C. Heat the stock until it boils and add that to the couscous in a bowl. Cover and let rest for five minutes before stirring it with a fork. In a pan, fry the onions and garlic until translucent over medium high heat and then add the coriander and 1 1/2 tsp of cumin, let fry for a minute or two. Then add the dates, it will become kind of like a paste, but try to break everything up. This will take another minute or two.
Add the hazelnuts and fry until it's toasted and fragrant.
Stir the mixture into the couscous and season. Now stuff it into the chicken's cavity and stick in the cinnamon stick.
Tie the legs together and now you can make the marinade. Whisk the oil, honey, cinnamon, the rest of the cumin, salt and pepper.
Massage the mixture onto the chicken, really massage into it, love your chicken, give it a good rub.
Look, absolutely gorgeous. Now you can put this in the oven and let that roast for about 1 hour and 20 minutes.
About 30 minutes before you have to take it out, toss your butternut squash in some oil and salt and put that in the oven as well.
How to tell if your roast chicken is done? If you have a meat thermometer then your life is set. You know it's done if the temperature inside is 165F I believe, but I have not yet made such an investment in my kitchen so I usually just cut a small opening in it (I know, it can ruin your beautiful chicken if you're not careful) and see if it's pink inside. It really is the best way to tell, if it's pink, let it roast for a bit more until it's all white. Once it's done, take it out, cover in tin foil and let that rest for 15 minutes. When ready to serve, put the butternut squash and the chicken onto the same dish with the residual juices in the chicken pan drizzled over it.
Variations
I'm getting to that. If you want to stick to the Moroccan theme, I'm not an expert so i can't suggest anything too useful, but you could be maybe be a bit more creative with the couscous, use dried apricots, use pine nuts etc. Maybe add some saffron and/or turmeric in there. Maybe stuff a couple of lemon/orange slices in there. And maybe some lemon/orange juice in the marinade to rub all over the chicken. Oh so many ideas but so few dinner parties/little money.