I stumbled upon this squash at the vegetable shop and thought it was just the prettiest thing. I had never seen one of these before. I was so excited, I chose the prettiest one, went to the counter and asked what it was called and how it tasted. I wondered if it would be sweeter than butternut squash or if it would be kind of bland like courgettes.
"Um. I'm not sure, I've never had one of these. It's just a squash."
No sh*t it's a squash, lady, but what is it? It frustrates me when people don't know what they're selling. Anyway, after some research online, I believe they are called scallop squash or patty pan squash. It's a summer squash and apparently you can find really tiny ones. But that's just in the summer unfortunately.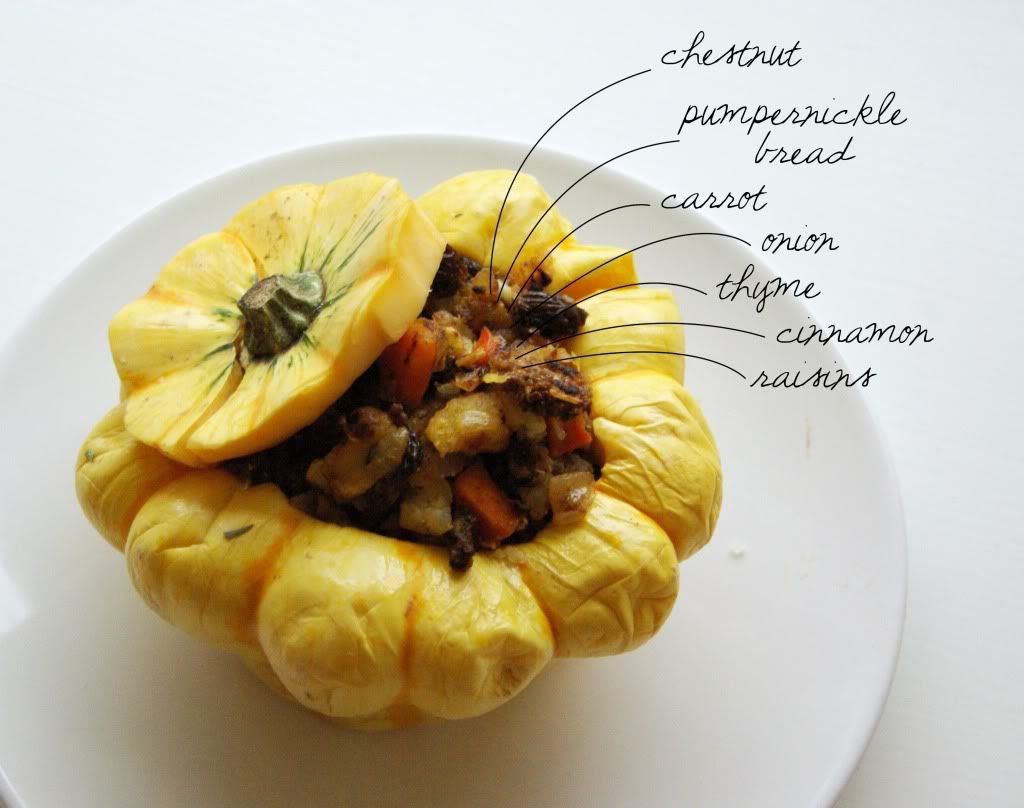 This turned out to be exquisite. I really should've been working on my Psychology practical or at least be attending my Maths lecture but I had no idea how long this dish would take. I only had a one hour lunch break, but it stretched out to be two hours and I missed my Maths lecture. It's ok, the result was amazing.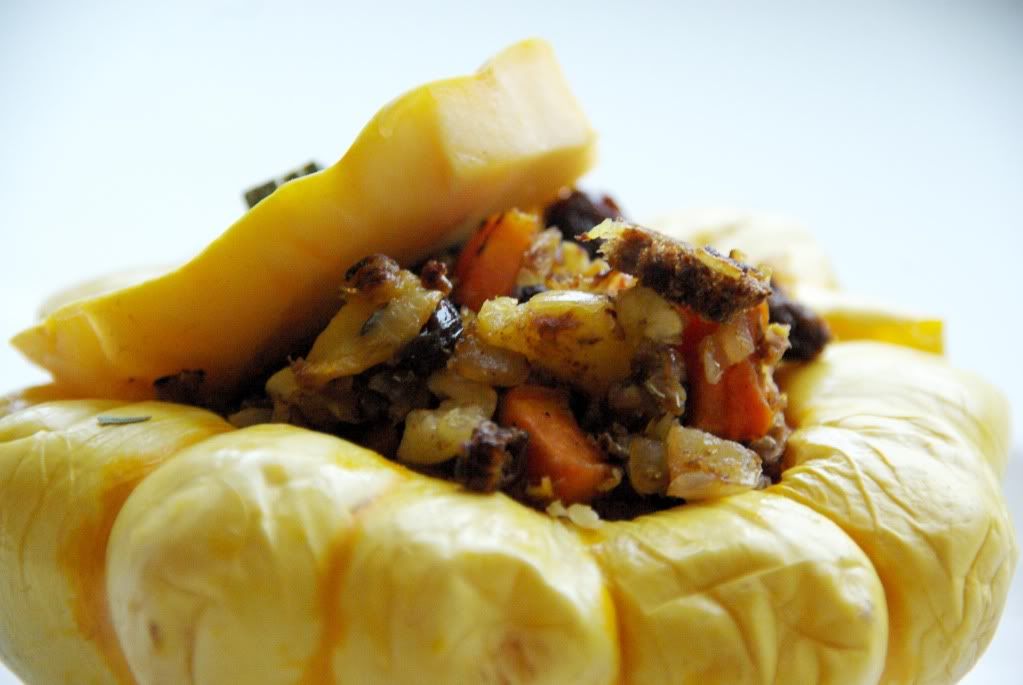 It's one of those instances where I just dumped everything I had in the fridge into the pan. I usually do that and the results are okay, but today's was really good.
Prep and Cook time: < 1 hr Serves: 1 Suitable for: delicious procrastinations
Ingredients
1 scallop squash
6 chestnuts
1 small carrot, diced
2 sprigs of thyme
1 onion, finely chopped
2 tbsp raisins
1 piece of pumpernickel bread
a splash of white wine
2 tsp cinnamon
oil
1 knob of butter
Method
Cut the lid off of the scallop squash, like how you would to a carving pumpkin. Put on roasting tin along with chestnuts, carrots and thyme. Drizzle generously with oil roast in the oven at 200C for around 30 minutes until everything is tender. While the goodies are comfortably in the oven, heat a bit oil in a pan and throw in your onions. Let them slowly fry and caramelize over low heat for 20-30 minutes.
When they're out of the oven, dice the chestnuts. Scoop out the flesh of the squash but be careful, don't scoop out too much because you want it to stand tall and pretty. Put the squash, carrots, chestnuts, rye bread raisins, and cinnamon all in the pan with the onions. Turn up the heat to medium high, add a splash of wine and a knob of butter, and just toss everything around for awhile until the wine has evaporated. Season to taste and stuff it in the squash.