It's warm and it's sunny -- oh so incredibly sunny. It's the start of my favorite couple of months in Britain. It honestly doesn't take much to make me happy, good weather, good food, good company -- It may be that bad time of the month for me, I may have an Economics essay I need to stress about, I may have to catch up on some readings for Psychology, and by some I mean about 200 pages. But it's okay, it's 18 degrees, it's not windy, the sunshine is blinding, and I'm on holiday.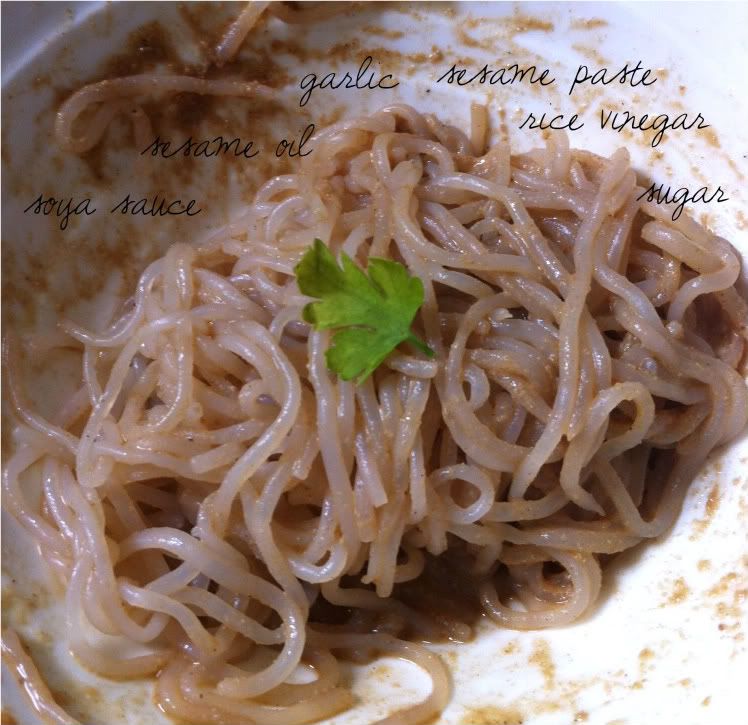 You can imagine why I love picnics so much. I love being outdoors and I love good food. So here's something different for your picnic basket -- ditch your finger sandwiches and cous cous salads, try some cold sesame noodles!
Total time: 5 min Serves: 1 Suitable for: express lunches
Ingredients:
100g egg noodles/rice noodles
1 tbsp sesame paste*
1/2 tbsp soya sauce
1/2 tbsp sesame oil
1/4 tsp sugar
1/4 tbsp rice vinegar/white wine vinegar
2 tbsp cold water
1 clove of garlic, minced
Optional:
cucumber, peeled and julienned
carrots, peeled and julienned
chicken, cooked and shredded

*If you don't have sesame paste, you can replace with tahini with a bit more sesame oil. Or add some peanut butter.


Method:
1. Blanch the noodles in hot water until cooked, drain.
2. Whisk all the other ingredients together and mix with noodles. Served cold.