I have difficulties keeping my titles short sometimes because I need you to know just what wonderful ingredients are in these things I make.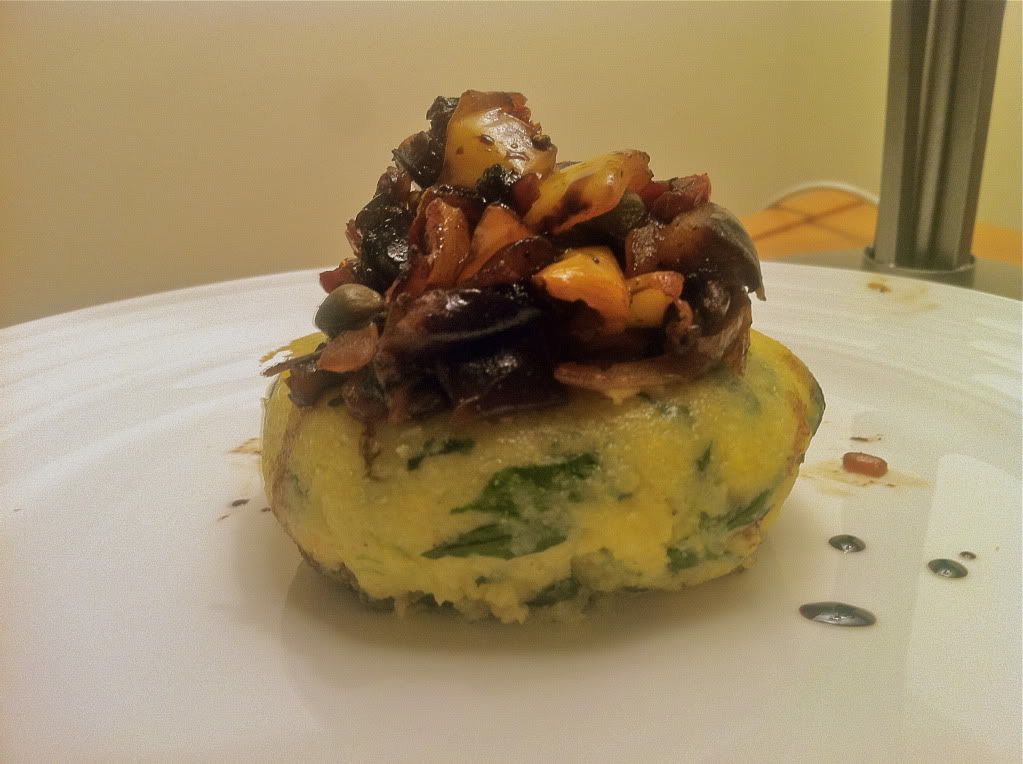 I've never had a problem with vegetarian food. Some people can't comprehend the concept of a proper meal without any sort of meat or seafood present. Growing up, I mostly ate vegetarian food at home since my sister became vegetarian at a young age, and my mother was too lazy to cook too many dishes. Coming from an Italian and Chinese background, it's easy to be vegetarian. If you know what to eat, being vegetarian is very healthy, and often much cheaper as well since meat is expensive. I'd actually like to try to follow a vegan diet for a week or two. I love tofu and I already drink soya milk, so why not. Hmm. Anyway, this isn't vegan, but it's vegetarian and it's very yummy.
Loosely adapted from
BBC GoodFood
Total time: 40 min Serves: 5
Ingredients
350g instant polenta
1 1/2 L vegetable stock
100g grated parmesan or any other hard cheese
200g spinach
100g goat's cheese, sliced into 5 rounds
1/2 tsp freshly grated nutmeg
Vegetable Ragout
1 onion, finely sliced
1 red pepper, cut up into chunks
1/2 large aubergine, cut into chunks
1/2 cup sun dried tomatoes, roughly chopped
1/4 cup capers
Sauce
1 cup balsamic vinegar
2 tbsp honey
Method
Vegetable ragout:
Fry the onions until translucent and add all the other ingredients. Lower the heat, add enough oil to make sure it doesnt stick and cover with lid.
Polenta:
Boil the stock in a large pot and then slowly whisk in the polenta in a steady stream. Blanch the spinach in some boiling water until wilted, and add that into the polenta along with the parmesan and nutmeg. Cut out pieces of cling film, about the size of an A4 piece of paper. Scoop 1/5 of the polenta, while still soft, onto the center and put a piece of goat's cheese in the middle. Draw the edges of the cling film around to cover the cheese completely with the polenta, and twist the cling film, to make little patties of polenta. Cool and Chill for up to 2 days.
When ready to serve, fry them in a pan over medium heat to warm them up until they're crispy on the outside.
Sauce
Boil the balsamic vinegar over medium heat and let it reduce to about 1/4 cup and add honey.
Assembling
Put the polenta cakes on the middle of the cake, place a large spoonful of the vegetable ragout on top and drizzle with sauce.