"Pretty" is the most apt word for this. You shouldn't just eat your greens, eat all the colors. This is as fresh and healthy as it gets.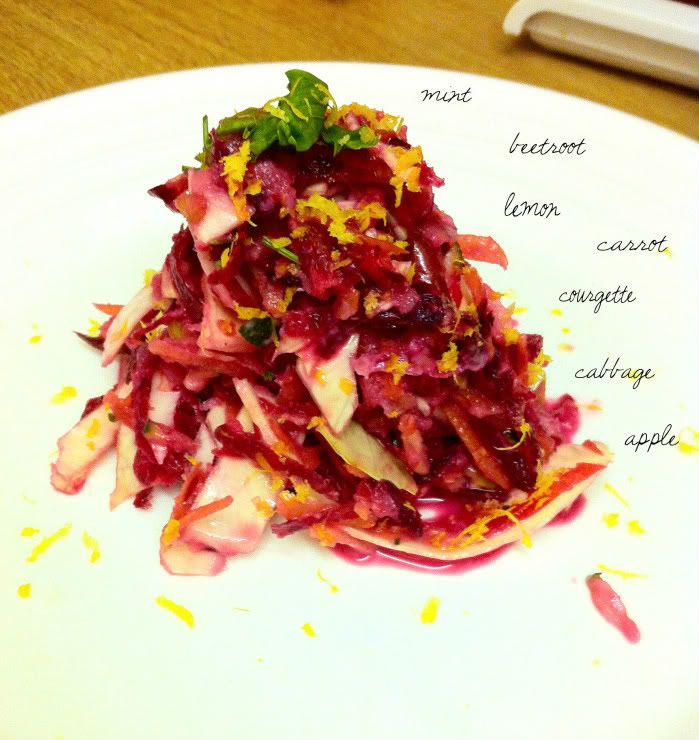 I felt so girly eating this. Nonetheless, it's a nice little salad perfect for an appetizer or as a side to a main dish. It's made with yoghurt instead of mayonnaise, so it's got extra health points, in addition to all the fruit and veg.
With the ingredients, feel free to just wing it, please. I encourage you to. It's a salad, do as you please.
Total time: 20 min Serves: 2 Suitable for: picnics in the sun
Ingredients
1 small apple, grated
1/2 courgette, grated
1/4 head of white cabbage, grated
1/2 beetroot, grated
1 small carrot, grated
a handful of mint, roughly chopped
zest of 1 lemon
juice of 1/2 lemon
1 tbsp red wine vinegar
1/4 cup plain yoghurt
Method
Mix all the ingredients together and season well.