Okay. I'm pretty much done with my essay. I have an essay due this Monday, and after
weeks
, I think I'm done. I'm not one of those people that can just pull an all-nighter and finish a 2000 word essay in 10 hours. No, just the idea of it stresses me out. In fact, I often stress for other people when they do that. I can't write an essay when the deadline is countable in hours. There is nothing wrong with writing an essay the day before, if you can do well, good for you. I just take a long time to write an essay, longer than normal people I think. If I am somehow able to write an essay the day before, it would be awful. Badly worded, run-on sentences that are illogical and follow no argument whatsoever. I'm actually quite worried about my current essay. Even though I worked really hard on it, it's not great. See, in secondary school our report cards had two grades for each subject: an effort grade and the actual grade. What often appeared in my report cards is a high grade for effort, but a lower actual grade. I don't know if that's a good thing. That just means I work really hard, but I'm just incompetent, unfortunately. I was always jealous of those that got high actual grades but low effort grades, because even though you're lazy, you're clever.
My essay's on food preferences. We were basically told to write a 2000 word essay focusing on individual differences in one of my Psychology classes. So, obviously, I'd write it on food.
Other than the essay, here, let me show you to this delicious lentil loaf. It's very versatile, you can add different things to it, you can also turn them into lentil patties for delicious veggie burgers.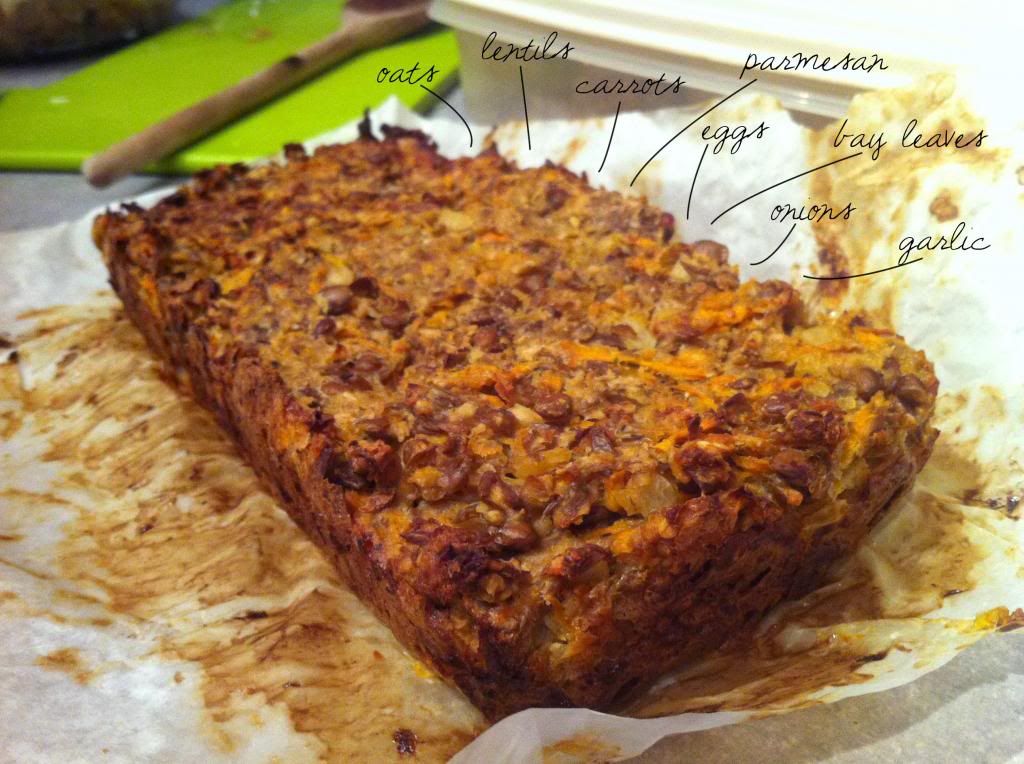 Okay, I'm going to go back to my essay. Reread and edit some more. *sigh*
Ingredients
2 cups lentils
1 cup oats
2 small carrots, shredded
1 onion, finely chopped
2 bay leaves
1 large garlic clove, minced
1 egg + 1 egg white
50g freshly grated parmesan
Method
Preheat oven to 180C and butter and line a loaf tin with parchment paper.
Heat a bit of oil in a pan, add onions and bay leaves. Fry until onions are translucent.
Add garlic and shredded carrots, fry for an additional two minutes. Remove the bay leaves and remove from heat.
Put the oats and 1 cup of lentils in a food processor and process until it's all mashed. Put in a bowl with the rest of the lentils, the carrot and onion mixture, egg and egg white, and the parmesan. Season, mix well and pour into prepared tin and bake for an hour or until browned on top.