This solved all my problems. I had made these months ago but this post had remained in the "drafts" folder until now. This has solved all my problems because I was supposed to update a post about my lunch today but lunch was disappointing.
First, let me take you back to yesterday when I was in Whole Foods. I love Whole Foods. I want to live next door to a Whole Foods in the future, that's my ultimate dream when it comes to location. A big wonderful Whole Foods market with beautifully fresh produce, audibly crunchy breads, and most importantly, all the fun DIYs. DIY nut butters, flours, muesli, ground coffee etc etc. Even just putting things in little bags, like they do with the spices, is fun. So I had bought some ras-el-hanout, zaatar, and rose masala, and felt the need to use them right away. Today for lunch I tried making some greens with zaatar. Eh. Meh. Probably should've added more spice.
So I don't write about things I'm unsatisfied with... Which is bad apparently on one hand because apparently people like to read about mistakes. But good on the other hand because now you know that I like all the things I post about.
These are another take on the traditional egg custard tarts. I had leftover limoncello filling from my
limoncello flans
. Poured the filling into shortcrust pastry cups and there we go.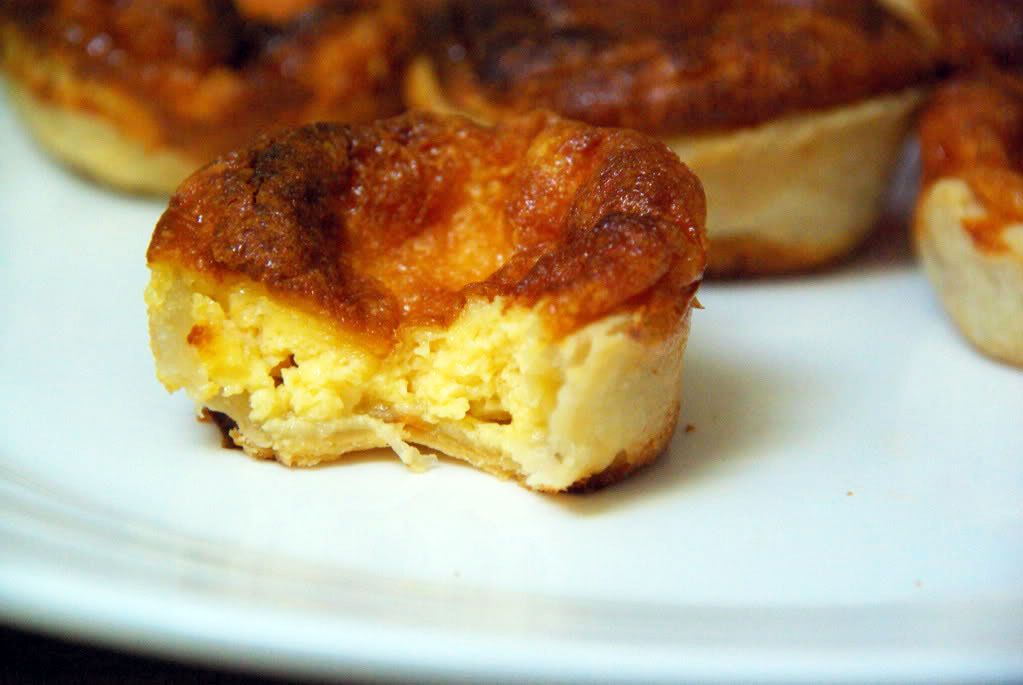 UNFORTUNATELY I don't know about serving sizes for these. I had made these awhile ago, I'm assuming this makes more than 12...
Ingredients
100g shortcrust pastry

Limoncello filling
100ml milk
100ml limoncello
1 tsp vanilla
3 eggs
45g caster sugar
zest of 1 lemon
zest of 1 lime
1 tbsp lemon juice

Method
Preheat oven to 200C.

Beat the eggs with sugar until frothy and whisk in all the other ingredients for the filling.
Shape the puff pastry dough into 1 1/2 inch balls, and press the balls into small tart moulds so that it covers the bottom, and goes up just above the rim. Use 3 fingers to crimp the edges..

Fill the tart shells with the filling

Bake for 15 to 20 minutes in the preheated oven, until golden brown and the filling is puffed up a little bit.