Have you ever had Quorn products? Urgh. The tofu's alright, but everything else, your mock meats, please. Westerners do not know how to make mock meats. Chinese Buddhists have got the mock meats covered. So many things actually taste like meat. I don't know how they do it. I've had mock fish that honestly tasted of the sea, and mock pork that would make the Jews and Muslims cringe. Blows my mind.
The Quorn products on the other hand are beyond disappointing. They're just... tasteless. Flavorless. Bland. Blah.
So I was at a supermarket and it was 3 for
£
5 -- of course, I should've known, that was a clear sign that they're not selling because they're bad. Anyway, I bought "steak", "chicken pieces", and "sausages". The steak was not good. The chicken pieces were abysmal. But thankfully, maybe because I tried them last, the sausages weren't too bad. Still not good enough on their own though -- I had to put them in a stew or in a salad like this one.
You are encouraged to replace the sausages with smoked tofu or real meat or something.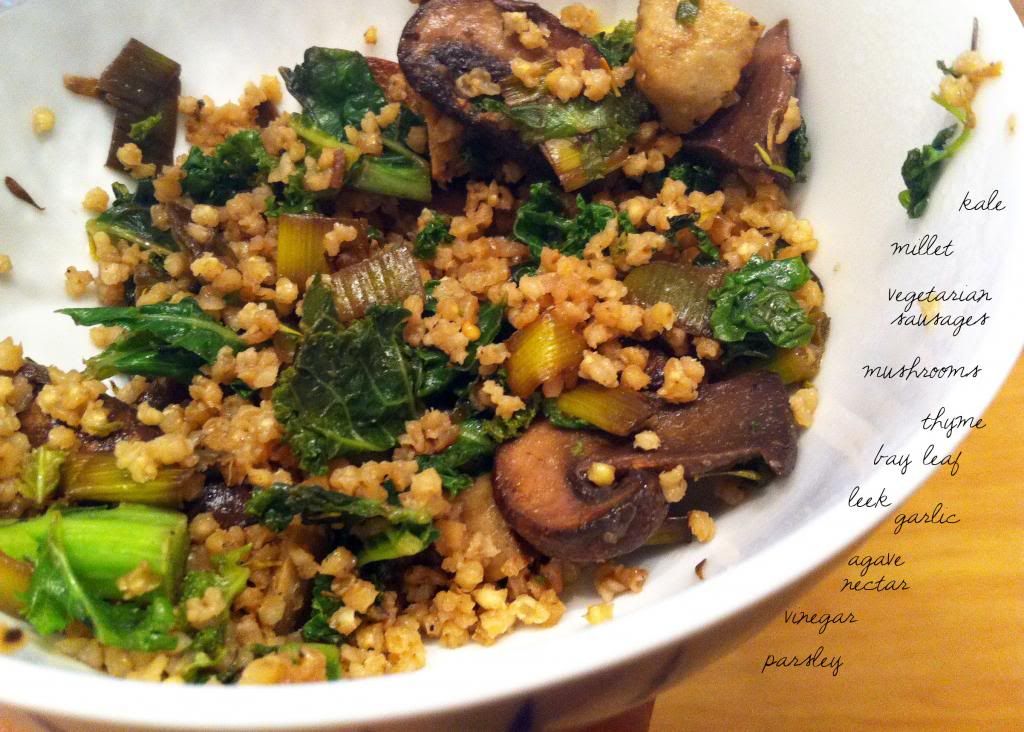 Serves 1-2
Ingredients
1/4 cup millet, uncooked
100g vegetarian sausages/smoked tofu/real sausages, diced
1 bay leaf
1 clove garlic, minced
1/2 cup chopped leek, sliced into 0.5cm rounds
1/2 cup button mushrooms, diced
1 cup kale, chopped
1 tsp agave nectar/honey
1 tsp white wine venigar
1 sprig thyme, just the leaves
small bunch parsley, minced
Method
Toast your millet:
Place a large pan over high heat and put the millet in. Continue stirring over high heat with a wooden spoon until grains start popping.
Remove from heat and put the millet in a pot with 1/2 cup of boiling water and the bay leaf. Put over high heat to return to boil and then reduce the heat and cover with lid until all the water is absorbed. About 20 minutes.
Turn off heat and let stand, covered, while you proceed.
Put a frying pan over medium heat. Add some olive oil, then fry the vegetarian sausages until golden on all sides. Remove from pan and set aside.
Add some more olive oil to the pan, and add the leeks and garlic. Sautee for a couple of minutes and then add the mushrooms, sautee until leeks and mushrooms are soft.
Add all the other ingredients. Fry and add water if the mixture becomes too dry. Fry just until kale is wilted, about a minute.
Put on a plate and drizzle with some good olive oil and serve.