I just wanted to say something basic about cookies. I want you to learn from my mistakes.
1. When baking cookies, don't place them so close together. Especially cookies that have high butter content and are likely to spread.
2. To insure that your cookies are "thin and crispy", make sure you bake them for long enough. With the brown sugar in these cookies I didn't know when they were done, because they just constantly looked burnt, so my first batch was underdone and were fudgy rather than crispy.
Another few tips on crispy cookies I learned online:
a) using plain white flour (all purpose), which has a higher protein content, makes for crispier cookies
b) using butter rather than shortening or other fats because it contains protein and because it has a lower melting point so it allows for the cookies to spread more and become crispier.
c) more white sugar rather than brown sugar (which is not the case in this recipe), because brown sugar retains more moisture.
d) no eggs (again, not the case in this recipe), because, like above, eggs retain moisture.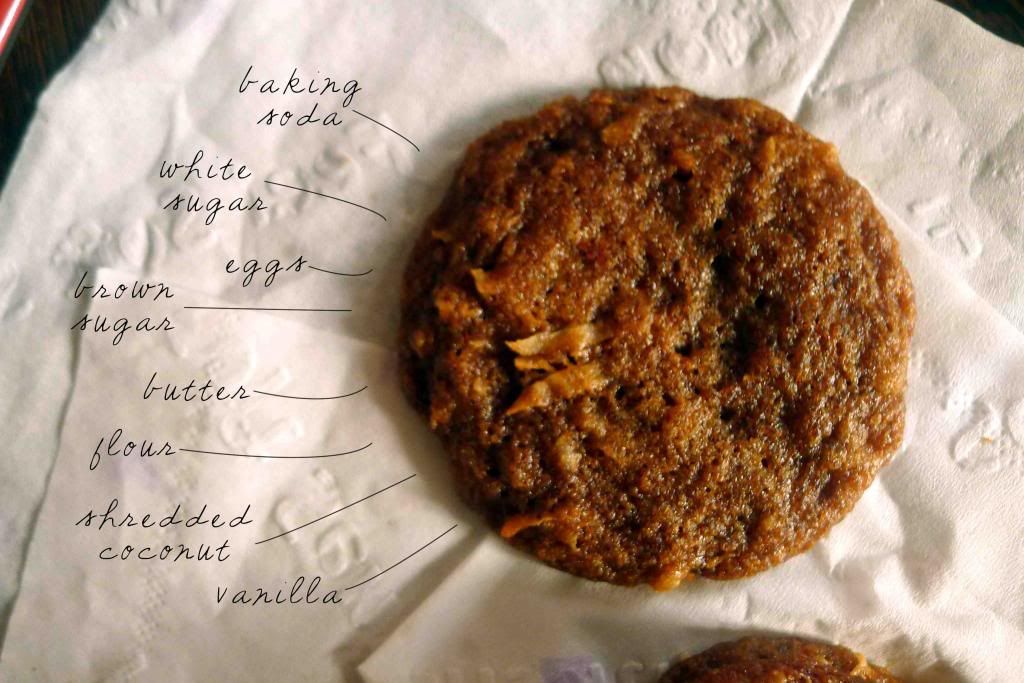 This is a very straightforward recipe, these are...American cookies. Buttery and sugary and homely. It's those cookies mothers make for their children, I feel. Actually, speaking of which, there's nothing I hate more than having people tell me, after hearing me talk about my love and passion for cooking, that I would make a great housewife. This happened just a couple of hours ago with a family friend. "Ah if you like cooking and feeding people, you should just become a housewife, you'll realize your dream sooner". No. Casual sexism is still very common here in China unfortunately.
But anyway, back to these cookies. It's family cookies. It's children cookies. It's for everyone. This is not my recipe, but I'm thinking of making another batch of these sometime with the crispy tips from above. More white sugar, no eggs.. Yea, cookies are fun to make because you can really experiment with them, worse comes to worse you still have edible things. Usually.
Recipe from here
Makes 2 dozen cookies (4 inches)
Ingredients
3/4 cup (170g) butter, soften
1 1/4 (160g) cup all-purpose flour
1/2 cup (100g) granulated sugar
3/4 cup (150g) light brown sugar
1 1/2 large eggs
1 tsp pure vanilla extract
1 cup (75g) unsweetened shredded coconut, plus extra for decoration
1 tsp baking soda
1/2 tsp salt
Method
Combine flour, salt and baking soda in a medium bowl. Set aside.
Cream butter and sugar until fluffy. Add one egg at a time mix on low for 40 seconds. Add vanilla extract and coconut, mix until combined.
Incorporate flour mixture and mix until combined. Scrape the sides and bottom of the bowl to make sure it is well blended.
Transfer dough into a bowl covered with a plastic wrap and refrigerate for an hour.
Preheat oven to 160C/325F. Grease and line a baking sheet. Using two teaspoons, scoop out little balls of cookie dough onto the baking sheet, making sure that the cookies are placed far apart from each other to avoid the fiasco as shown in the photo in the beginning. Sprinkle the cookies with a bit more shredded coconut.
Bake for 10-12 minutes until golden. Using a spatula, transfer each cookie to a cooling rack.Once cooled, store in an air-tight container.