Hello, 2014. The media is filled with articles on "How to eat healthy in 2014" and "The best diets for 2014", but you know what, this is the way to start 2014. It's comparatively decadent but it will make you happy inside out.
Spaghetti with bottarga is one of those quintessential Italian recipes that puts the focus on the ingredients. See, it really is just a couple of ingredients, you can even omit the anchovies and perhaps fry a bit of garlic in a pan then toss the pasta in that first before adding the bottarga. But essentially all you need is good bottarga and good olive oil in this recipe (or you can make a light tomato sauce with fresh cherry tomatoes cooked in a bit of olive oil along with some chopped parsley).
Let me first explain bottarga. Bottarga is cured fish roe. It comes in a big slab as you can see in the photo below. It is, according to Wikipedia, fish roe massaged by hand to remove the air pockets, and then compressed, dried and cured in salt for several weeks. The flavor is quite strong, and it really is a delicacy. It can be quite expensive.
It takes three minutes to make after you've boiled the pasta. My father was in a rush and this was his quick lunch, decadent almost, no? It's not fattening, it's not bad for your arteries, it's good for you. It's probably something you won't find in one of those 2014 diets online but it's in my 2014 diet.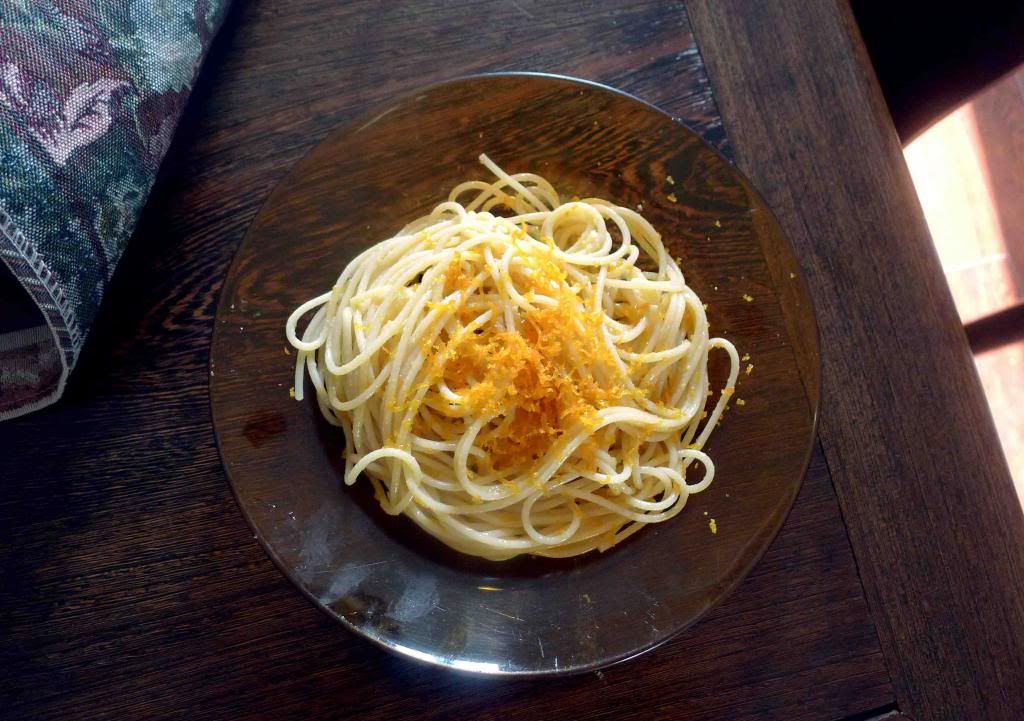 Serves 2
Ingredients
190g Spaghetti
Bottarga, grated, about 1 cup (depends on your bottarga and your own judgement)
Extra virgin olive oil
1 anchovy, minced
Method
Bring a large pot of salted water to the boil and add the spaghetti. Cook until al dente, then drain and reserve some of the cooking liquid. In the same pot mix with bottarga, anchovies and a bit of the cooking liquid. Add olive oil, just keep trying to see if you want to add more, the same goes for bottarga, and it's ready to serve.