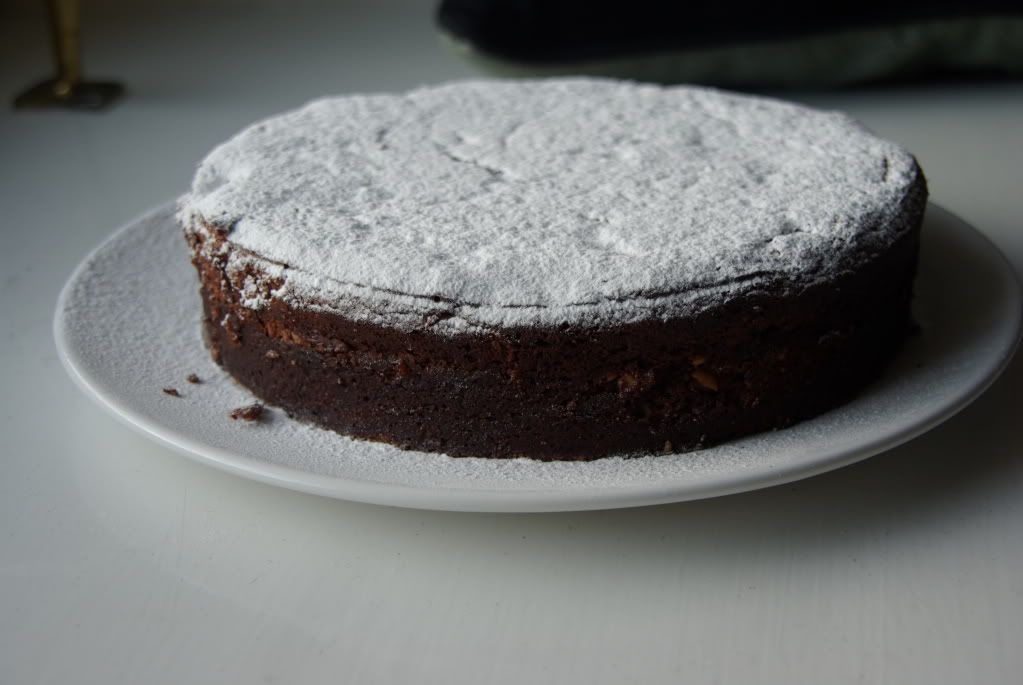 Everyone says that their grandmother or their mother is the best cook in the world. Now. Both my grandmother and mother are amazing cooks. My grandmother is everything you would expect from an Italian grandmother. There's nothing she can't make. Tiramisu, cannoli, chocolate puddings, lasagna, stuffed eggplants, pizza, pasta. Anything. My mother, Chinese, but strangely enough cooks Italian food better. And she makes the most amazing breads.
However, in my life, the best cook I know, is my aunt. Oh bless her, she's got that magic touch that just makes every dish she cooks blow my mind away.
Torta Caprese is a chocolate and almond cake from Capri, and you know what, it is
the
chocolate cake. There are so many chocolate cake recipes - German chocolate cake, chocolate angel's food cake, chocolate devil's food cake... But this is
the
chocolate cake. When done right, it's rich and moist and you just get these big burst of bold flavors coming from the dark chocolate and the almonds. Oh it's beyond sensational, it's the
best chocolate cake ever
.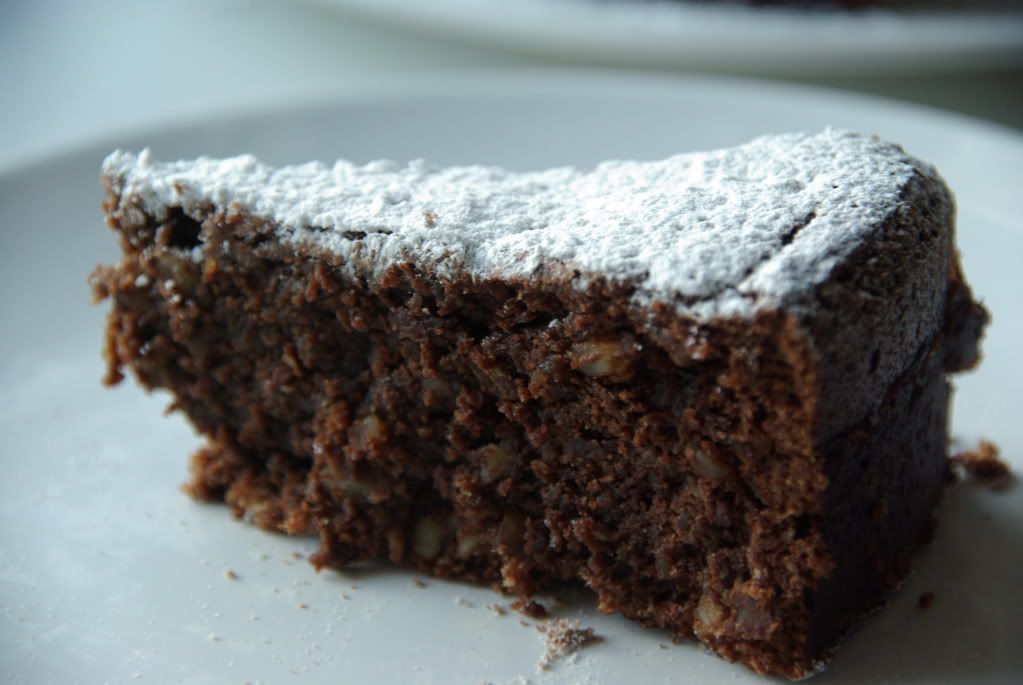 It was pretty damn good but it was nowhere near as amazing as my aunt's.
Ingredients
300g almonds
250g dark chocolate
250g butter
7 eggs, separated
250 sugar
1 tbsp corn flour
1 tsp vanilla extract
6g baking powder
Method
Preheat oven to 180C. Melt the chocolate over a double boiler and leave it to one side to cool.
Melt the butter over a double boiler, and leave it to one side to cool as well.
Put the almonds in a food processor and pulse until ground, it doesn't have to be too finely ground, it's quite nice to have some small chunks.
Whisk the egg yolks with the sugar until pale and frothy.
Whisk the egg whites until stiff peaks form.
When the chocolate has cooled down, mix it with the ground almonds and butter. Fold in the egg yolk mixture. Add corn flour, vanilla and baking powder. Lastly, fold in the egg whites. Be very careful, as always, when dealing with egg whites, you want to preserve as much of that air as possible.
Bake for about 40 minutes. Start checking at 30 minutes, it's done when you insert a toothpick in it and it comes out clean.
Leave it overnight to cool. Resist. Trust me, it's better the next day, even better two days later. Dust with icing sugar and serve preferably with with
whipped cream
.
NOTE:
The chocolate and the butter have to be cooled.
No ready-ground almonds.
Get good dark chocolate and good almonds
Be so ever gentle with your whipped egg whites