Eggs are usually found with asparagus in the form of a frittata or softly poached with a runny yolk that's meant to be broken up and lightly draped over the asparagus.
Hard-boiled was interesting. This is Ottolenghi's recipe, and it is essentially grated hard boiled eggs with capers and olive oil scattered on top of asparagus. I trusted Ottolenghi and I just went for it.
It was...well, each to their own, and it didn't quite work for me. It was good, it just wasn't my favorite. I much prefer it with a runny egg yolk, though I have to say the capers do add a nice touch. So maybe next time for a weekend brunch I'll make sauteed asparagus with poached egg and capers.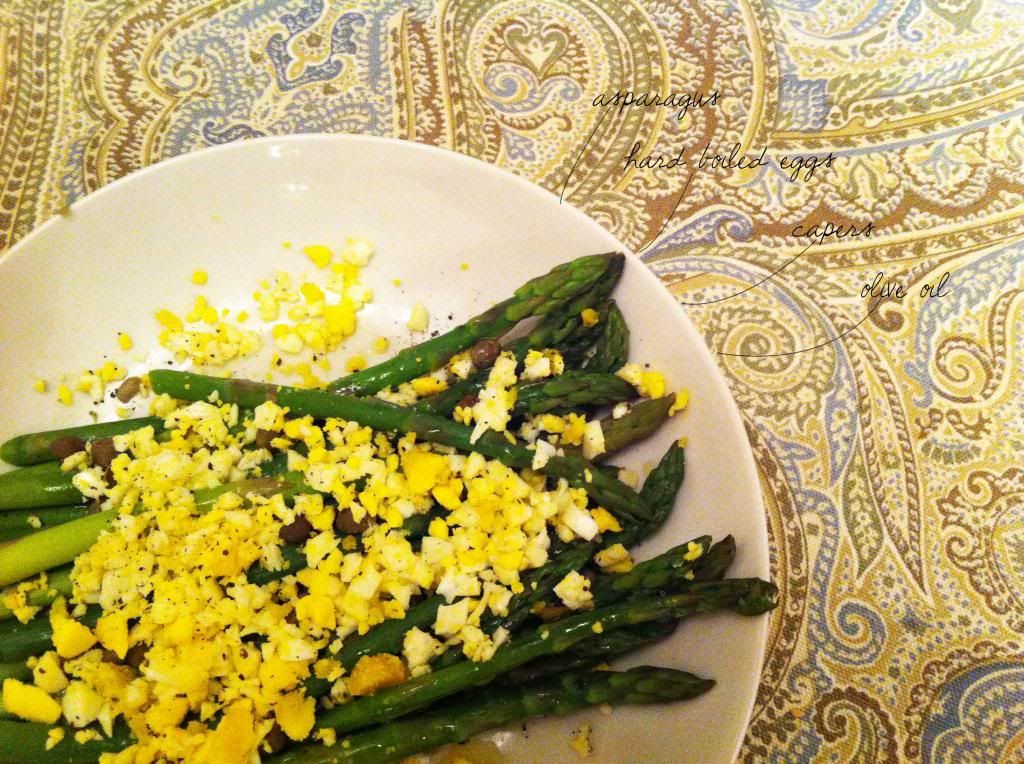 Please do try it, because you may like it.
Recipe from
Plenty
- taken from
Weird Combinations
Ingredients
3 lbs asparagus spears, woody parts at bottom discarded
3 organic eggs
6 tbsp extra virgin olive oil
4 tbsp capers with some of the brine
Sea salt
Black pepper
Method
Place eggs in a saucepan and cover with cold water. Bring water to a boil, reduce temperature to medium low and simmer for 8-10 minutes. Turn temperature off. Let eggs sit in hot water for 4 minutes. Drain water and let eggs cool down to room temperature. Grate or chop fine.
Add ½ of the capers, some of the brine and olive oil to a bowl. Crush capers a bit with the help of a spoon. Set aside.
Add asparagus to a large pot of boiling water and cook for about 3 minutes. Remove from heat and drain. Arrange asparagus on a serving platter and drizzle with a couple of tablespoons of olive oil to coat. Add crushed caper sauce, capers and grated eggs. For cuteness leave tips of asparagus clear of dressing.