Soft buttery brioche for breakfast. Mmm..
My mother's breakfasts begin with a bowl of porridge and a simple green salad with chopped tomatoes, then about 15 minutes later she'll have her cappuccino and pastry. I've been the source of her morning pastry since I came back home, and she's very picky. You wouldn't think she would be considering the fact that she usually settles on sweets she finds in Chinese supermarkets. She's got a very sweet and conservative palate. So every morning my day starts off with the usual breakfast criticisms. It's never sweet enough and my combinations are just way too strange for her tastes. She's really beginning to despise rosemary now, but since I have it in the fridge I try to put it in everything to use it up. I love rosemary in sweets. Rosemary and raisins -- think of how well rosemary and grapes work together on a warm soft focaccia.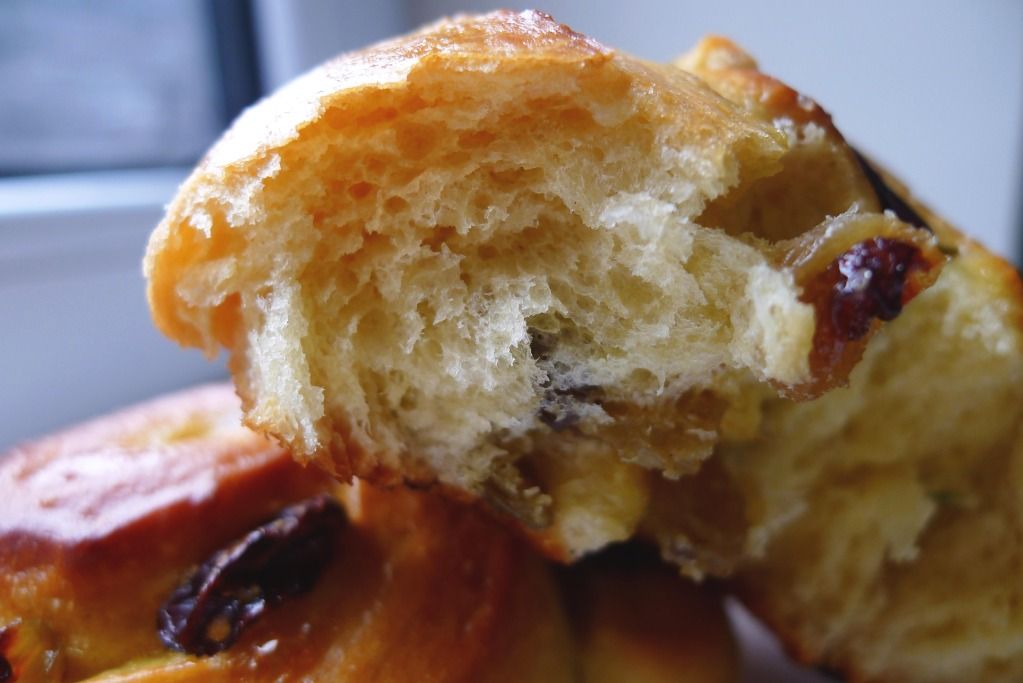 I made an orange-scented brioche a while back, but I got this brioche dough recipe is from The Fresh Loaf. It's a good site for all your bread-making needs.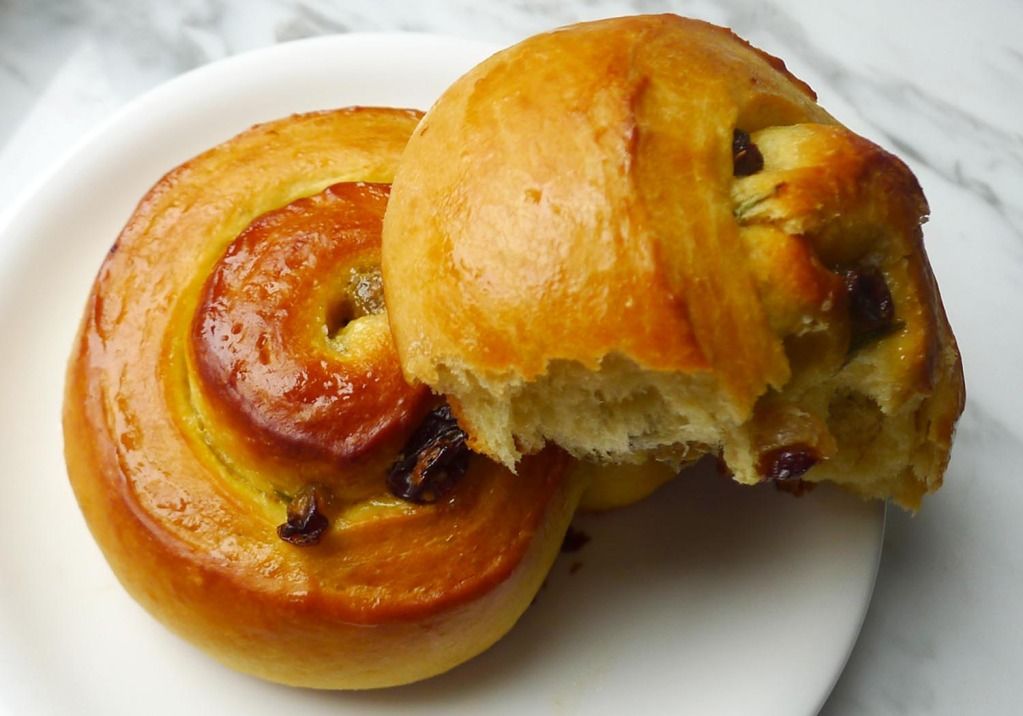 Prepare the night before and the next morning in about 2 hours you'll have fresh homemade pastry for breakfast. Maybe not on a normal weekday unless you can't sleep, but worth the effort on a Saturday or Sunday. The recipe for the brioche makes twice as much as the filling recipe, so you can double the filling recipe or save half the brioche dough and use it for something else. With the amount of filling, it can make 8 brioche rolls.
Ingredients
Dough
3 ½ cup flour
2 tsp instant yeast
¾ cup milk
1 ½ tsp salt
4 tbsp sugar
3 eggs

Filling
½ sprig rosemary,
½ cup raisins soaked in brandy overnight
3/4 cup sugar

1 egg, 1 tbsp milk for egg wash
2 tbsp water, 2 tbsp sugar and ½ tsp vanilla for glaze

Method
Mix the dry ingredients together then stir in the eggs and milk until well incorporated. Slowly knead in the butter, bit by bit until all combined, then leave in a bowl to rise in a warm place for two hours. Press the air out and then cover and leave it to rise over night.

Cut the dough in half. Reserve one half in the bowl for other use. Roll the other half out into a big triangle, about the size of a 15 inch MacBook. Brush with eggwash then sprinkle with rosemary leaves, raisins and sugar. Roll it up, cut it into 8 pieces. Place them on a baking sheet and press with your palm to flatten them, then brush with egg wash again. Cover with cling film then a towel and leave to rise in a warm place for about an hour. Bake for about 15 minutes in an oven preheated at 200C. Immediately brush with the sugar water glaze.