Kat and Ross are two people I just love to cook for. They're my favorite couple out of my group of friends, and believe me, a disgusting number of my friends are in committed relationships that are lasting way too long. I'm 19, most of my friends are in that sleep-around-and-have-fun age group, yet many of them have been sleeping with the same partner for years. Well, good for you. I won't stare bitterly at you or live vicariously through your lives in a pathetic manner. As long as you're not rubbing it in my face, I don't care about your love and commitment and all that mushy sentimental stuff. Anyway, I won't tell you all about Kat and Ross and why they're my favorite couple (well, one reason is that they've never made out in front of me, thank you), but rather I'll focus on this delicious dessert that was made when they came over for dinner. Yes, it tasted as good as it sounds and looks (thanks you Kat for the lovely photo). The combination of flavors isn't new, it's a classic, but oh how delicious it was in a dessert form with different textures mmmm. Oh and I also like Kat and Ross because they always like my food.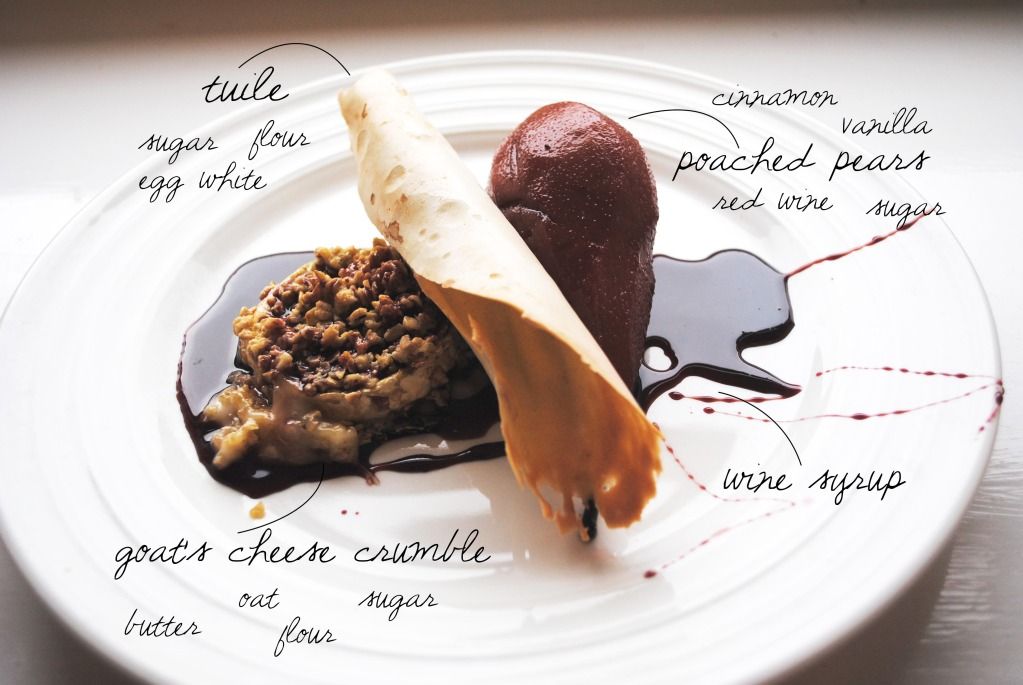 Serves 4
Ingredients
Spicy Poached Pears
2 cups dry red wine
1/3 cup sugar
1 cinnamon stick
1 vanilla pod
4 conference pears
Tuile Biscuit (from Ross Burden)
2 medium egg whites
85g flour
100g sugar
Goat's Cheese Crumble
70g sugar
50g cold butter, diced
50g flour
50g oats
1 egg, beaten with a bit of water
A log of goat's cheese, cut into 4 slices.
Method
Pears
Halve the vanilla pod lengthways, scrape out the black seeds, and put it in a pot, along with the actual pod, with the wine, sugar and cinnamon stick. Stir over medium heat until the sugar melts. Peel the pears, make sure it's kept whole with the stalk intact. Add the pears, make sure they're fully immersed in the liquid, cover and let cook for about 20-30 minutes or until tender. Remove the pears, turn up the heat and boil the liquid for about 20 minutes or so, until it becomes thick and syrupy, and leave to cool.
Tuiles
Preheat oven to 180C. Mix all the ingredients together to form a smooth paste. Using a spatula, Spread a thin thin thiiin layer of the batter on a baking sheet -- make a small rectangle, and bake for just a couple of minutes until golden. Take out and roll it up or do whatever shape desired. Bake only two at a time because you need to shape them while still hot and soft.
Goat's Cheese
Blend the crumble ingredients in a food processor until it resembles breadcrumbs. Dip the goat's cheese slices in the beaten egg and then dip in the crumble ingredients. Place on a greased sheet, more crumble on top and bake at 180C for about 10 minutes until golden. Serve with poached pears, tuiles and syrup.