It's the sign of summer – when little plastic boxes of bright red strawberries are found all over town. Now's the best time to eat them fresh as they're beaming with flavor, not like their bland pale older siblings that somehow come along in mid January. Grab a box and eat these sweet and vibrant berries with your morning yoghurt on a sun-soaked terrace. Slice them in half and arrange them systematically on a crème patisserie filled pastry case. Just dip them in whipped cream maybe. Mmm or you can have them bathe in a sweet marinade and then cooked in a sweet and crunchy pastry like I did a couple of days ago.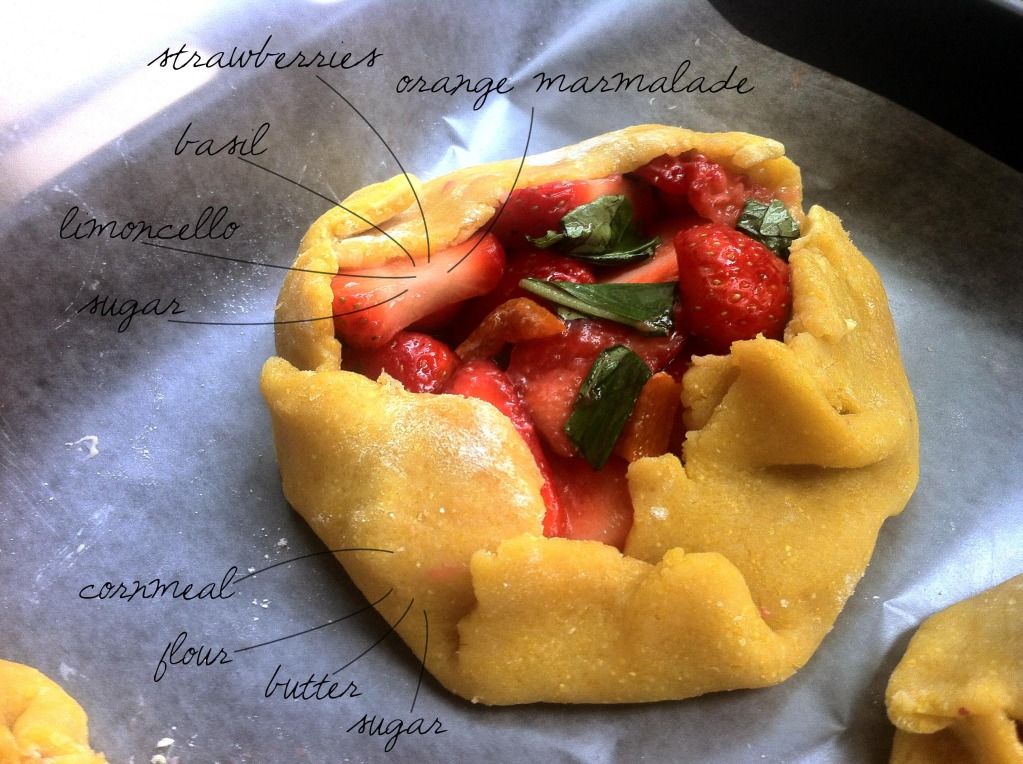 Basil is a fine match for the beautiful strawberry. But perhaps it's not for everyone. If you're not feeling too adventurous then leave them out -- still a good tart. If you are, chop them both up and have them soak up plenty of sugars and spices and alcohol to enhance their flavors.
Oh and the cornmeal crust is to die for. Trust me. Plain old short crust is just so boring sometimes. If you've been reading my other recipes you'll see I rarely use short crust pastry for my pies. The cornmeal contributes to both the texture and the flavor of the pastry enclosing the strawberries, adding a nice crunch and a distinct sweetness. To die for.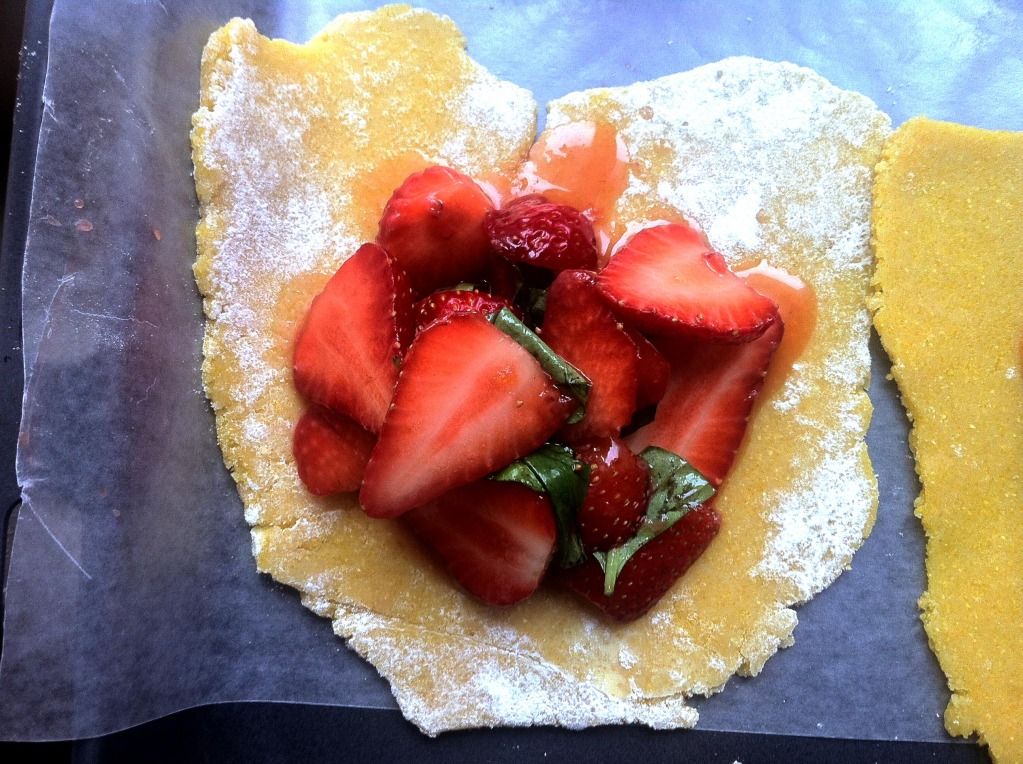 makes 6 15cm tarts
Ingredients
Cornmeal Crust
1 ½ cup flour
½ cup cornmeal
1 cup icing sugar
1 tsp salt
125g butter
2 large egg yolks, lightly whisked with 3 tbsp of ice water
Strawberry basil filling
(adapted from
here
)
400g strawberries, sliced
½ cup basil, roughly chopped
½ cup limoncello
½ cup sugar
2 tbsp orange marmalade
Method
Crust
Mix all the dry ingredients together, mix in the cubes of butter until it resembles bread crumbs, then mix in the egg yolks. Don't overwork it, just form a dough and press flat and wrap in cling film. Chill in fridge for at least half an hour.
Filling
Mix all the ingredients together in a bowl and let sit for at least an hour.
Roll out the dough and cut it into 6 equal portions. Divide the strawberry mixture into 6 portions as well and place each portion onto the center each piece of dough. Reserve the liquid Fold the dough around the strawberries leaving a hole in the middle – don't worry about being neat, it's a free form pie. Pour the remaining liquid from the strawberries into all the pies. Bake at 180C for 20-30 minutes until crust is golden.