I'm very much into plating nowadays -- it's got to look good if you want people to eat it. I find that anything stuffed or rolled just looks more elegant. Then you elevate your star by putting it on a pedestal, and finally you must drizzle it with a sauce. So here you have turkey rolled and stuffed with a mushroom and leek filling, sitting on top of the same mixture and drizzled with a mushroom and balsamic sauce.
I don't come from turkey-eating cultures, but we should really all eat turkey more, it's very healthy.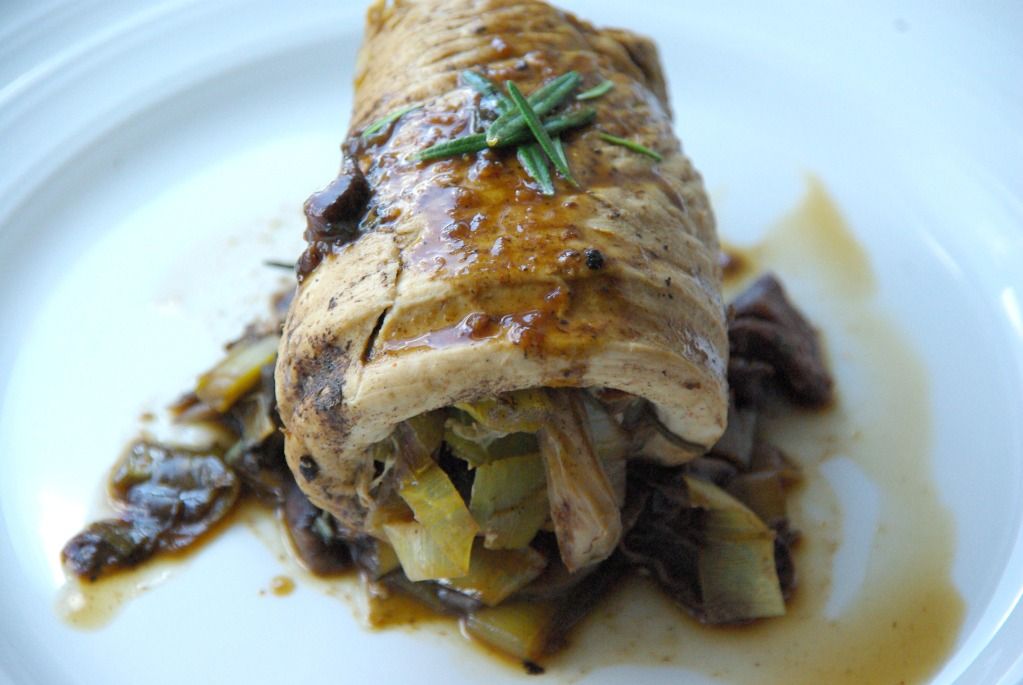 Serves 4
Ingredients
4 slices of turkey breasts
½ cup dried porcini mushrooms
1 cup wild mushrooms, sliced
1 large leek, sliced
1 garlic clove
2 stalks rosemary
2 tbsp balsamic vinegar
Method
Pour 1 ½ cup of boiling water over the dried porcini mushrooms and let them sit for 30 minutes. Strain the liquid and reserve. Fry the garlic in a pan until fragrant and add the leek, rosemary sprigs, mushrooms and half a cup of the mushroom liquid and cook for a good 10-15 minutes.
Pound the turkey breast until large and flat, season on both sides, and put a bit of the mushroom-leek filling onto the end and roll it up. Secure with a toothpick if you need. Do the same for all 4 slices, don't worry if you've got leftover leeks and mushrooms. Place them in the pan together with the leftover mushroom mixture and fry all over until cooked. Remove the turkey rolls and make a reduction of the mushroom juice by putting the remaininy mushroom water into the pan with the balsamic vinegar and heat over medium-high heat until reduced by about 2/3. Season and serve with turkey.