It is Day 5 of my Paleo Challenge. I'm hungry and lethargic. Today I was asked why I was doing this to myself -- it obviously has no health benefits, and it is costing me a bomb. Meat, fish, vegetables and all that is natural and good just costs a fortune in this country. I don't really know why I'm doing this to myself -- self-discipline, pride... I don't know. It's only day 5 and I'm already tempted to stop. Maybe I'll end it early...
Throughout this challenge, I haven't been eating anything too interesting, the only meal where I make an effort is breakfast, hence it being the only one I tweet about (follow me on Twitter if you want to know all the other interesting things I eat! #shamelessselfpromotion).
So while they may look like normal pancakes, they tasted........ well, they weren't bad. But i had these while watching my friends have normal sour cream pancakes that looked a lot better. It's the texture that was a bit off-putting. Not off-putting, but just..not cakey. Duh, no flour.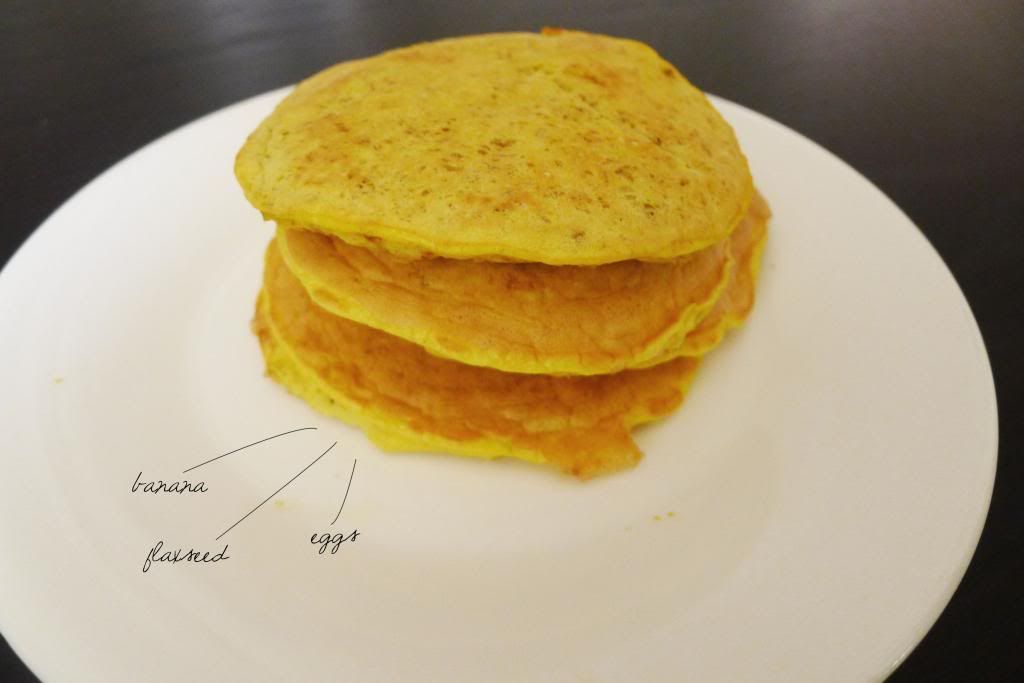 Serves 1
Ingredients
1 large banana
2 egg whites/1 egg
1 tbsp flax seed
Method
Put everything in a food processor and blend until smooth.
Heat a frying pan over medium heat. Add a tsp of oil, when it's hot, add the batter in batches to make pancakes!