Vegan, gluten-free, very healthy in many ways, but not Paleo friendly.
Don't worry, it's day three and I have not yet broken my Paleo Challenge. I've been tweeting what I've been eating, but it's just been my breakfasts, actually. Lunches and dinners I eat some stir fried vegetables and meat. I was going to go all out and buy the Paleo friendly pantry necessities -- but they're not very student-budget-friendly. So no coconut oil or coconut flour or too many nuts for desserts. Though I could make this
Healthy Chocolate Avocado Mouss
e again, just with honey instead of sugar.
Anyway, I had made this last week. Very yummy. I miss chickpeas.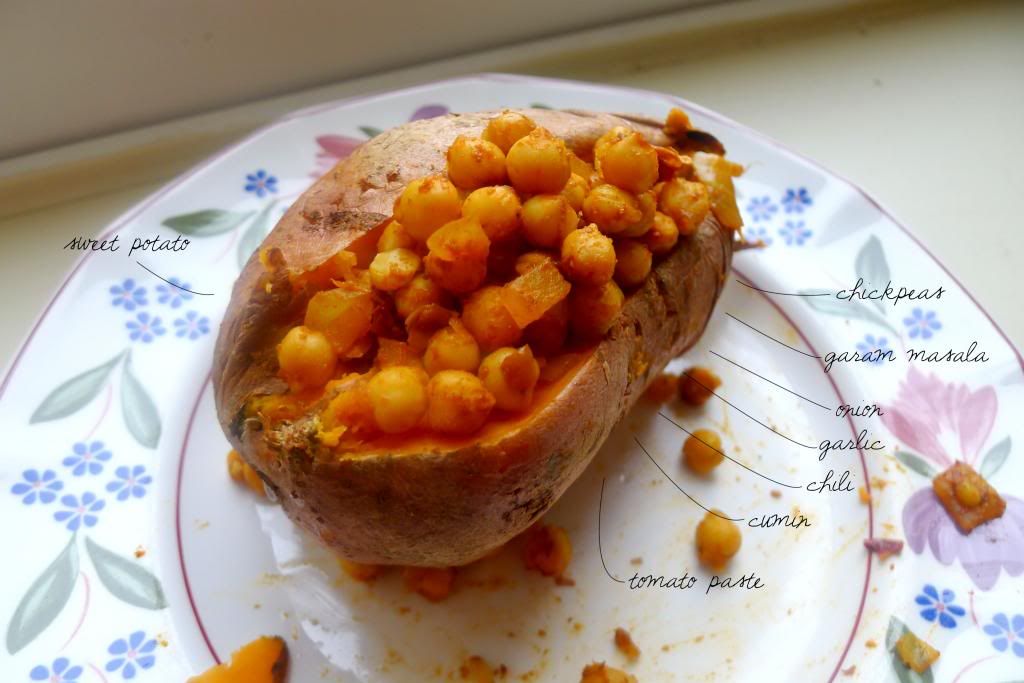 Ingredients
1 medium sweet potato
1/2 cup cooked chickpeas (like from a can)
1/2 small onion, finely chopped
1 garlic, minced
1 tbsp tomato paste
1/2 tsp garam masala
1/4 tsp cumin seeds
1/4 tsp chili powder
Method
Preheat the oven to 200C.
Wash the sweet potato and prick it several times with a fork. Wrap in tin foil and place in the oven for about 40 minutes to an hour or until really soft.
While the sweet potatoes are roasting, you can move onto your chana masala.
Fry the onion in a pan with some oil over medium high heat. When translucent, add the garlic and fry for a minute. Add the spices and fully coat them, then add the chickpeas and the tomato paste. Add about 1/4 cup of water and just let cook until it dries up. Season to your liking.
Split the sweet potato open lengthwise and stuff with chana masala.