I live with 4 girls. My room is sandwiched between two of their rooms. Last night, as I was trying to have a quiet night in and catch up on my academic readings, awful hip hop was blasting out of one, and Muse was blasting out the other. I don't like hip hop. I like Muse. Together, I realized I hate with a passion.
Fortunately, I have delightful breakfasts that can make me forget and move on.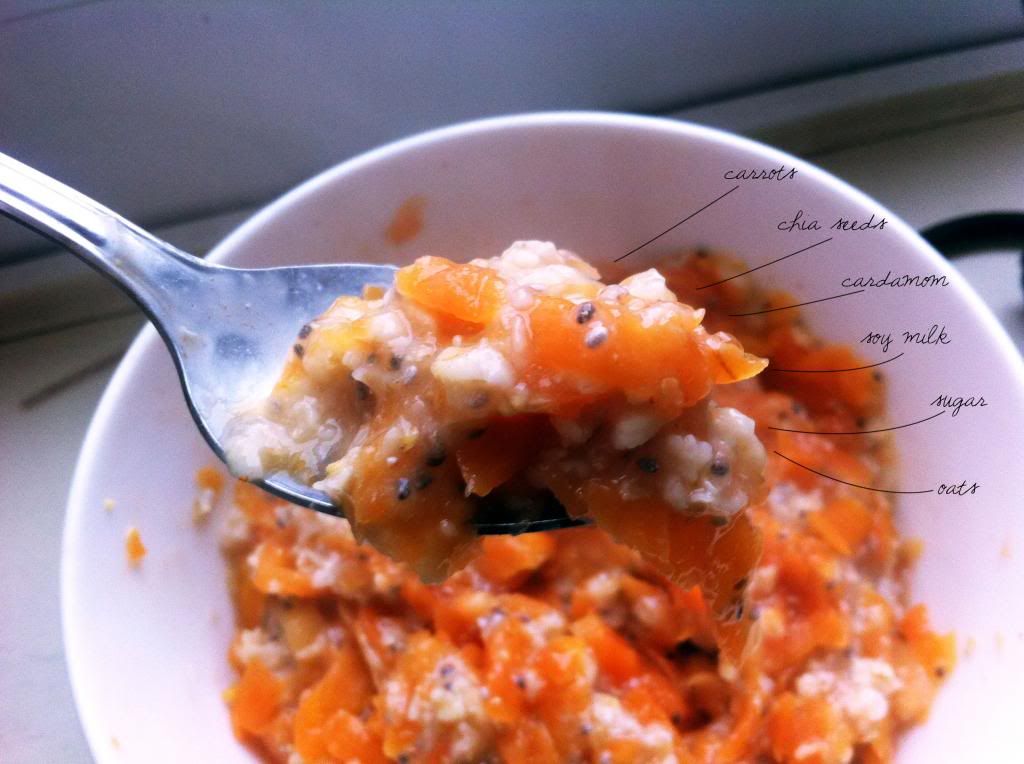 This takes a bit of effort to make in the morning, but if you're like me, and often wake up 20 minutes before your alarm - why not?
What you do is you fry up some carrots, and then you just let it cook in milk until all the milk has been absorbed and the carrots are soft and delicious. Then you make your oatmeal, add a bit of chia, if you wish, for that extra healthy kick, and you stir in your carrots.
Ingredients
A nob of soya butter/normal butter
1 cup shredded carrots
1/2 cup milk (can substitute with non-dairy like almond or soy)
1/2 tsp ground cardamom
1/2 cup oats
1/2 tbsp chia seeds (can be omitted, it's only added for health benefits)
Sugar - to taste
Method
Heat a pan over medium heat, add the nob of butter. When melted and bubbly, add the carrots. Stir and let fry for about 5-10 minutes.
Add the milk and the cardamom, and bring the mixture to a boil. Let that cook until all the milk has been absorbed. If the carrots are still not completely cooked through (i.e. not completely soft) then add more milk and continue to cook it.
In a pot, bring 1 cup of water to a boil. Add the oatmeal and chia seeds and stir over medium heat until it becomes thick. Stir in the carrots and sugar.