Whoa I'm behind. First November post on the 5th, not good, not good. I had a mini holiday. I went to Edinburgh for three days, splurged and didn't do any work. As guilty as I feel, since I'm behind on so many things, it was fantastic. I
really
needed it.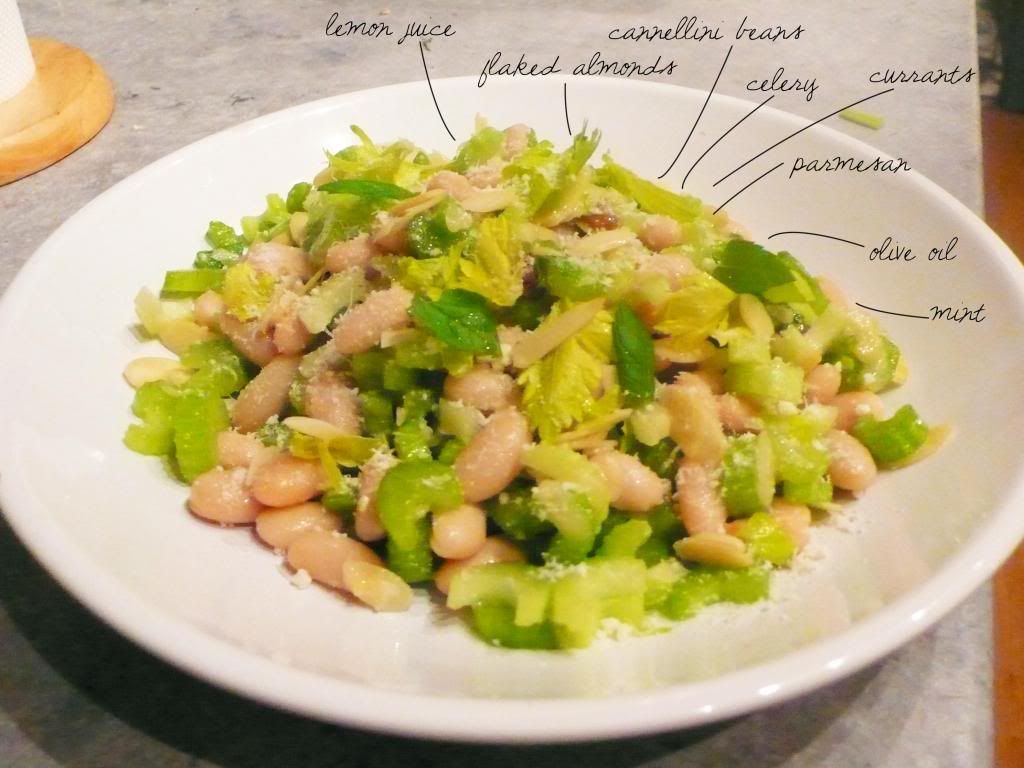 I haven't been cooking much lately because..well. See this is the problem with having a public blog, I can't really say whatever I want. I can't really rant about certain people and situations involving certain people, so I'll just talk about this delicious salad.
It's from
101 cookbooks
, which is an amazing food blog. The photos on the site are much better than the one I have here, I know, the colors are a bit harsh... I don't know why I didn't notice this when I was editing this photo on Photoshop. Ah well, enjoy.
Recipe from
here
serves 4-6 or just 1 in my case
Ingredients
8 large celery stalks, stripped of strings
3 tablespoons extra-virgin olive oil
2 tablespoons freshly squeezed lemon juice
4 tablespoons freshly grated Parmesan, plus more for topping
1 1/2 cups / 10 oz / 285 cooked cannellini or garbanzo beans, heated
3 tablespoons currants (or golden raisins)
1/2 cup / 1 1/2 oz / 40 g sliced almonds, deeply toasted
sea salt
freshly chopped herbs (or herb flowers), or reserved celery leaves
Method
Slice the celery stalks quite thinly - 1/8-inch or so. Then, in a small bowl, make a paste with the olive oil, lemon juice, and Parmesan. Set aside. In a large bowl toss the heated beans with the olive-Parmesan mixture. When well combined, add the celery, currants, and most of the almonds. Toss once more. Taste and add a bit of salt if needed. Serve in a bowl or platter topped with herb flowers and/or celery leaves.