It's difficult to keep in touch with everyone, even if you live in a small university town where you probably bump into everyone in your social circle at least once a month. In attempt to maintain good relations with the people that I know, I set up so many coffee dates and dinner parties and whatnot..and as much as I enjoy them, they take up a lot of time and $$$. So I've decided to go by a different strategy and have routine in my life instead. On Tuesdays I go to the Psychology lunch with a group of friends, every Tuesday. Wednesday nights are pub quiz nights with another group of friends (where my friend is the quiz master, and may I say an excellent quiz master). And now Thursday nights there is the Vegetarian Society's potluck. I'm going to have to go to that every Thursday with another group of friends. It's less stressful this way. It's good.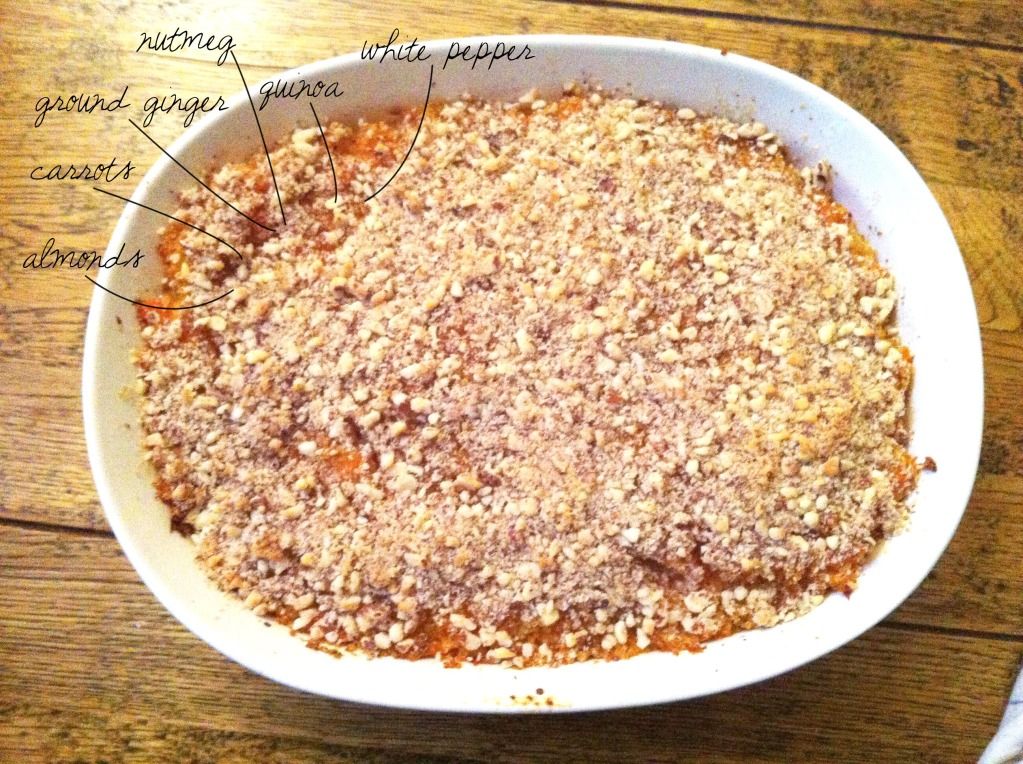 This was what I made for the first potluck. I had decided to do something vegan because there are quite a few (unfortunate) vegans at the potluck. This was
really
good. I got the recipe from
ScandiFoodie
-- excellent site for all things healthy and delicious.
Recipe from
here
Ingredients
1 kg carrots
1 cup quinoa
1/4 tsp white pepper
1/2 tsp ground ginger
dash of nutmeg
4 tbsp almond meal
Method
Peel the carrots, cut them into large pieces and place them in a pot with just enough water to cover them. Bring to boil and leave to simmer until the carrots are tender. Drain but reserve boiling water.
Preheat oven to 180C and oil a casserole dish.
Rinse the quinoa, place in a pot along with 2 cups of the carrot water (add more normal water if there's not enough), bring to boil then cover and let simmer for 10 minutes or until water is absorbed.
Mash the carrots and mix with the quinoa, spices and salt.
Pour into the the prepared casserole dish and sprinkle almond meal on top. Bake for 30 minutes
http://www.scandifoodie.blogspot.co.uk/2011/12/finnish-christmas-with-twist-carrot.html