Where do you see yourself in 5 years?
I'm in my 3rd year of my Bachelor's degree, in 5 years I'm going to be out in the real world. I'm going to be living in London with my friend, Saanya, we'll be vegan and we'll go out for drinks in our sexy business suits after work, and use all our money on our expensive rent and on the theater.
That's the plan I have with Saanya.
We had discussed this over lunch at a vegan restaurant in London,
Saf
. We had raw pad-thai, cashew pate, raw dolmas and some vegan crepe with asparagus. They were all delicious, but what really made an impression were the raw dolmas --- they were basically cauliflower-stuffed vine leaves. I had seen other recipes using cauliflower as rice, but it was my first time having it. So, 3 days after the end of my vegan challenge, I had decided to try out yet another vegan recipe -- cauliflower rice.
You essentially just whizz up the cauliflower in a food processor to achieve the texture of rice (well..kind of) and you stir-fry it, stuff it in vegetable, or serve it with a main course -- however you do with cooked rice.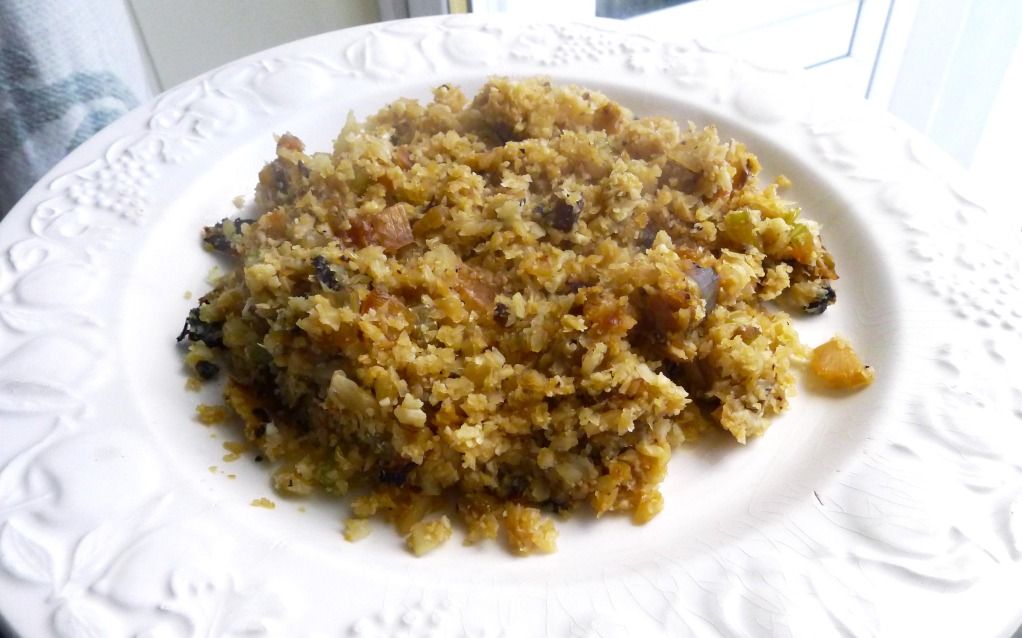 It's a very filling and healthy dish. I'll be cooking this loads in my flat in London with Saanya in 5 years.
In the mean time I'm going to enjoy being a carnivore and probably add some bacon to this next time.
Ingredients
1/2 onion, diced
2 celery stalks, finely sliced
3 button mushrooms, minced
1/2 head cauliflower
Soy sauce
Method
Saute the onion in a large skillet with some oil for about 10 minutes
Meanwhile, roughly chop the cauliflower and place in food processor. Process until you get the texture f rice
Add the celery and mushrooms to the skillet and fry for another 5 minutes before adding the cauliflower rice.
Cover and let cook for 5 minutes or until soft. Season with soy sauce.