I've been looking at all these vegan baking recipes but most of them involve chia or flax seeds and those things are expensive. I found a whole bag of chia seeds, maybe 250g or so, for 12 pounds. Fair enough, I only need like 1 tbsp of it per cake but still -- 12 pounds! My vegan challenge is almost up, I don't need chia seeds.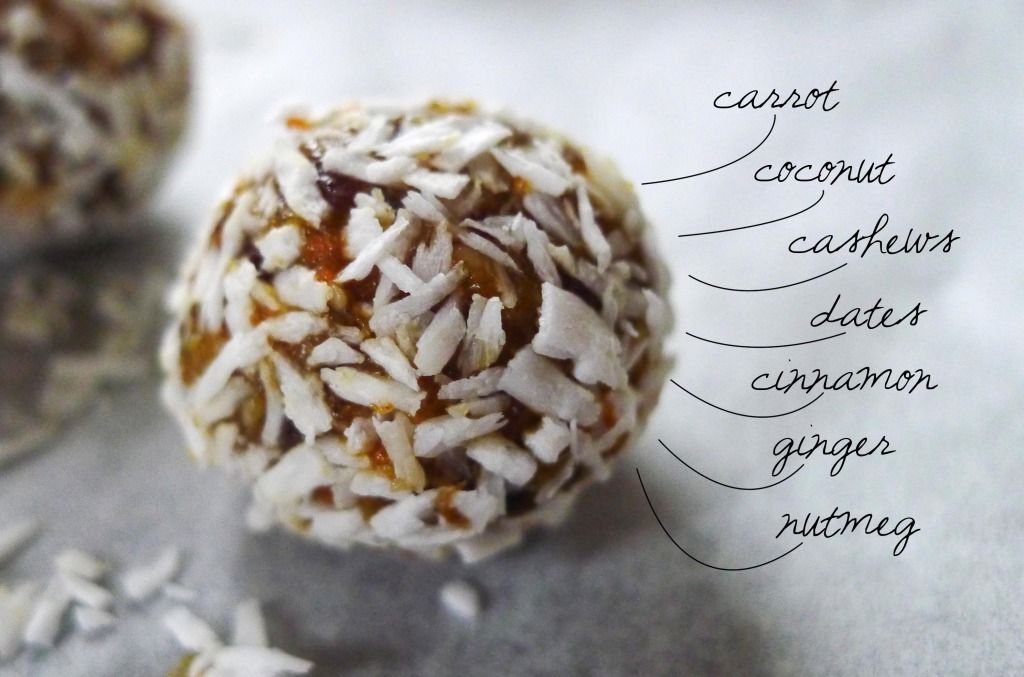 Remember my raw brownies? No? Check them out if you don't know about them. These are built upon the same concept: dried fruits and nuts. These are sooo very yummy, it's got ginger and cinnamon and nutmeg so it's wonderfully spicy.
I brought these over to my friend's place for tea -- I felt so guilty because she felt guilty as none of the tea time treats were vegan friendly except for my little carrot and cashew bites. Dear vegans, how do you do this? Don't you feel uncomfortable when you're in a situation involving food with non-vegans? Is that why I don't meet many of you? Because you stick to your own kind?
Anyway, vegan or not, try these out as they're delicious and healthy.
Recipe from
here
Ingredients
1/2 cup cashews
1/2 cup dates
1/2 large carrot
1/4 tsp cinnamon
1/4 tsp ground ginger
pinch nutmeg
1/4 cup desiccated coconut
Method
Peel and grate the carrots, then place them along with the dates, cashews, cinnamon, ginger and nutmeg in a food processor. Process until smooth. Roll them into balls and coat them in the desiccated coconut. Place them in the fridge overnight, or if you're in a hurry, place them in the freezer for a couple of hours.