I had it coming. I had been bragging about my amazing immune system for weeks as all my friends fell ill with runny noses and unbearable coughs, and now -- it's over for me too. I should be sitting in the library working on economics right now but I'm currently wrapped in a duvet and scarf and I feel just germy and unhealthy and just as a whole very unpleasant. It's karma. Not my immune system, but karma.
It all started going wrong last night. I'd been trying to have dinner with my friend Cima for over a year. She's very busy with academic work and so it'd been impossible to set up a date with her, but then by some miracle last night we had finally had our over-due dinner. I had made a pizza with the base made out of chickpea and quinoa. My friend Hannah made a quinoa salad and Cima had to ruin all the healthiness by making a strawberry and almond crumble. It was delicious though, unfortunately, which had led to me consuming about 3 portions of it.
Anyway, it was all good until later I went out to a house party and I had started feeling dehydrated and started coughing and well now I'm ill. But not for long. No, I don't stay ill, I've got a strong immune system. That's right.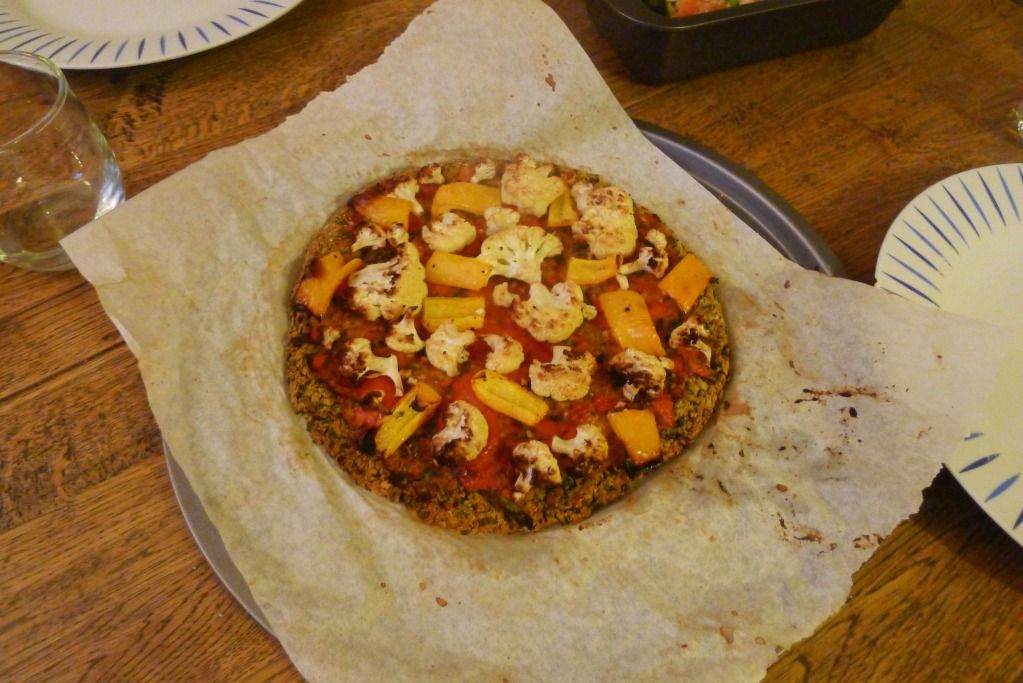 Feel free to top it off with whatever you want -- I had cauliflower, yellow peppers and a tomato sauce -- I know, not Italian at all, but it's not
really
a pizza, so I don't feel ashamed. And it was yummy.
Recipe from
here
Ingredients
: makes one 8-9 inch round
Base
1 cup sprouted or cooked chickpeas(I used sprouted over 1.5 days)
1/2 cup sprouted or cooked Quinoa(I used Alter Eco rainbow Quinoa, sprouted over 1 day)
1 cup chopped Chard or Kale
2 Tablespoons olive oil
1/2 teaspoon cumin powder
1/2 teaspoon salt or to taste
2 cloves of garlic
1/2 teaspoon garam masala or curry powder
1 dried red chili or to taste or skip
Toppings
1/2 -2/3 cup small cauliflower florets
1/3 cup yellow pepper, diced
Sauce:
1 medium tomato
1 garlic clove
spices and herbs of choice (I added cumin, ginger powder, chopped cilantro, lemon juice, salt, pepper)
1 teaspoon olive oil
Method
Pulse all ingredients for the crust until a thick doughy batter is formed.
Spread the thick batter on parchment lined sheet using circular motion to about a 1/4 inch thick. (To help make the crust sturdier and less wet, add some flaxmeal or other dry seed meal)
Bake in preheated 375 degrees F for 15 minutes,
Meanwhile, pulse 1 or more tomato, garlic, spices, herbs into a coarse mix.
Mix the cauliflower, yellow pepper, salt, pepper and a bit of olive oil, and marinate till ready to put on the base.
Take the base out once the center is slightly firm. Spread sauce, top it with the marinated cauliflower, other veggies, sprinkle salt and pepper/chili flakes to taste.
(Use a less wet sauce, else the crust will get mushy and even more delicate)
Bake for another 35-45 minutes in the center or bottom rack.(depends on your oven and crust thickness. Lift up the crust lightly with a spatula to check that its not wet in the middle)