I go crazy for wholegrain salads. I only realize how overpriced they can be hours after the meal though. Honestly, it's just lentils and pulses -- cheap stuff, but they sell them at these fancy healthy delis and cafes. It's like tofu and seitain, they're cheap stuff, but they've become so popular in the west, winning the label as "healthy foods" and so you only find them in overpriced health stores. Tofu and seitan are the cheapest things in China. Oh and miracle noodles! Have you guys ever heard of "
miracle noodles
"? They're low-carb and almost calorie-free, I had thought that they were the most fantastic inventions. They cost a fortune but I was so curious that I actually ordered a pack online. They tasted fine, but after some internet research I realized that I had been eating them all my life in China. They're usually thrown in hot pots, and, again, they're cheap. Cheap ingredients. I get really annoyed by these things.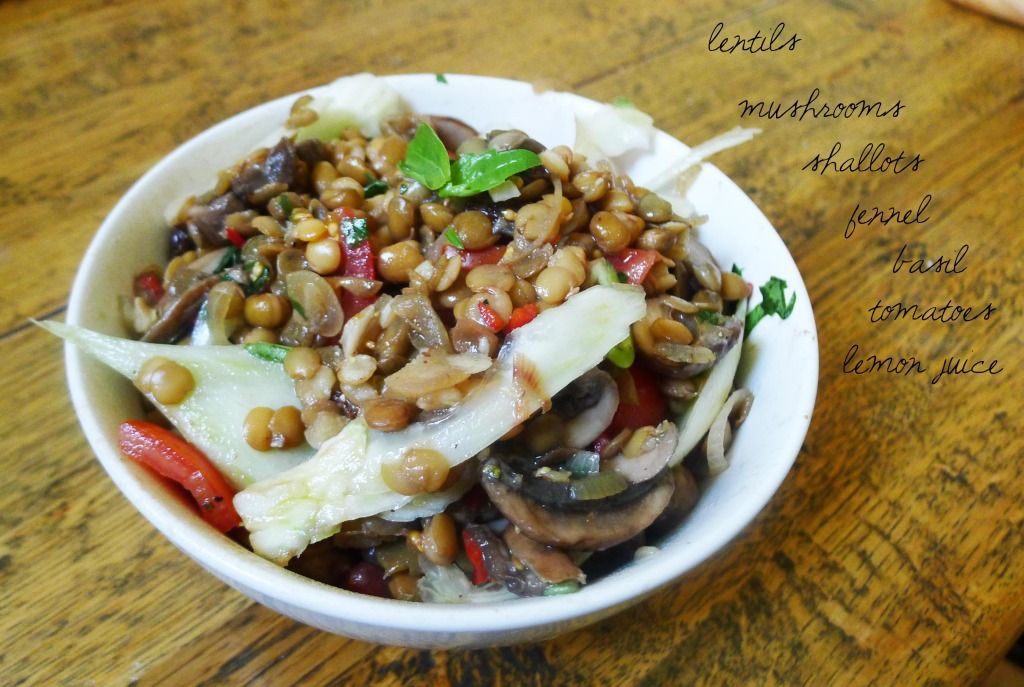 Anyway, make your own lentil salads, it's yummy and versatile and healthy and cheap.
Ingredients
1 cup cooked lentils
1/2 cup chopped cherry tomatoes
3 large basil leaves, roughly chopped
1/2 cup button mushrooms, sliced
1 shallot, thinly sliced
1/4 cup fennel, shaved
juice of 1/2 lemon
1/2 tbsp olive oil
salt and pepper
Method
Fry the shallot in a pan until brown, then add the mushrooms and a bit of water, and let cook over medium heat for about 10 minutes.
Toss everything together and serve.