I should just carry cookies with me at all times. I had my little box of cookies with me, distributing them to my friends after my exams, and then bam, as luck would have it, I ran into the guy I like and I was able to give him my cookies. I think that made him like me a bit more as a person. Hopefully.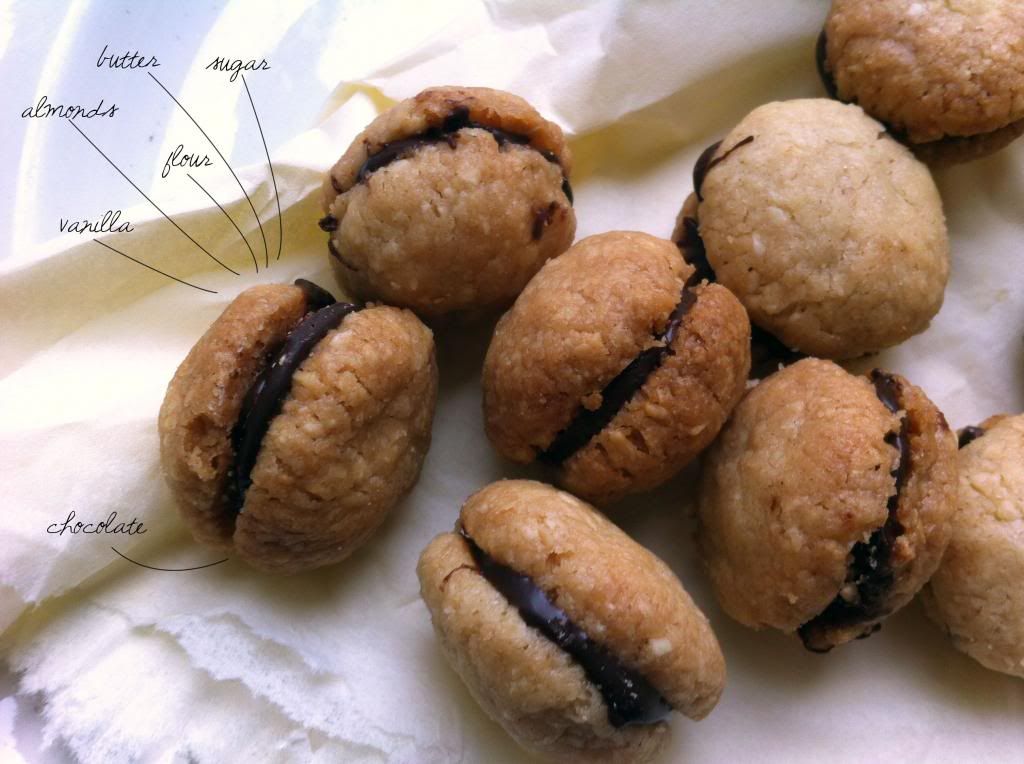 Baci di Dama are hazelnut/almond sandwich cookies from Piedmont in Italy. They can either be made with hazelnuts or almonds, with chocolate in the middle. I personally prefer the hazelnut ones, and I was going to make the hazelnut ones, but my hazelnuts disappeared, so I had to make do with almonds.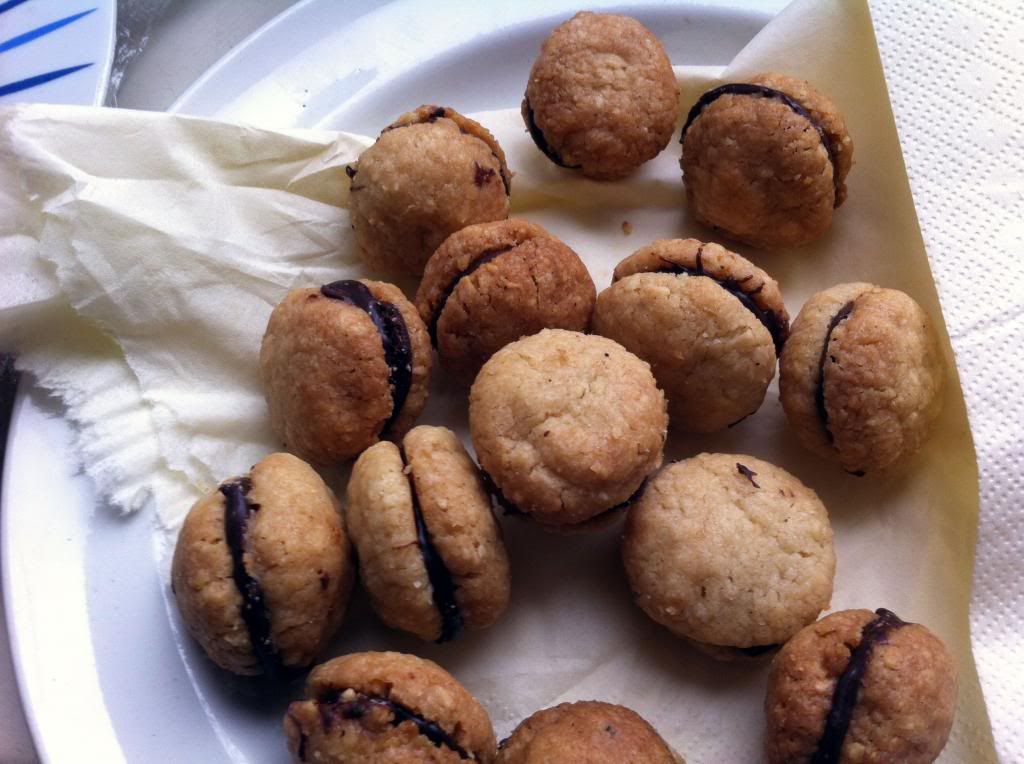 They're called lady's kisses because apparently they look like kisses, sweet, no? I didn't tell that guy that though, I thought it might've been coming on a bit too strong.
Recipe from Giallo Zafferano
makes about 40
Ingredients
150g hazelnuts/blanched almonds
150g flour
150 butter, room temperature
100g sugar
1 tsp vanilla
50-100g dark chocolate
Method
If using hazelnuts, toast them in the oven at 180C for 10-15 minutes until fragrant, then rub off skin.
Ground the nuts in a food processor with the sugar.
Put the nuts, sugar and flour in a large bowl. Cut the butter into pieces and add that into the bowl as well. Using your hands, mix and knead until it forms a smooth dough. Separate it into two chunks and flatten each into a disc, wrap in cling film, and leave in the fridge for at least an hour.
Preheat the oven to 160C. Line two baking trays with baking paper.
Working with one disc at a time, leaving the other disc in the fridge. Form little balls of about 5g each. Use a scale like I did if you're a bit OCD like me. Put them all on the baking tray, spaced apart and bake for 10-15 minuets or until the tops are golden brown.
Leave to completely cool
Break the chocolate into pieces and put them in a bowl. Put the bowl over a pot of simmering water and stir until the chocolate melts and becomes smooth
Put a chocolate chip sized dollop of melted chocolate on the bottom of one cookie, and place another cookie on top, to sandwich the chocolate. Repeat with the rest of the cookies.