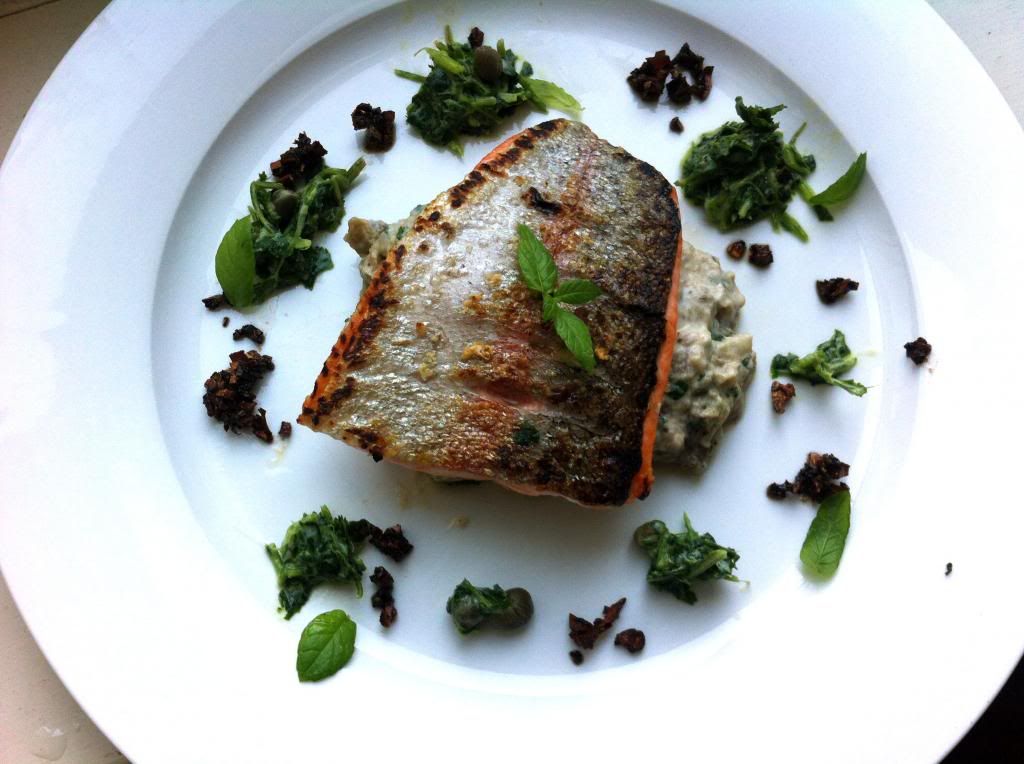 There are days of revision where I just make a sandwich. There are days of revision where I just
buy
a sandwich. Or a wrap, or a salad, or just some generic meal deal. Well, yesterday wasn't one of those days. Yesterday, I was determined to make myself a gourmet lunch, because I don't like how exams are compromising my meals.
See. Sometimes I don't buy certain ingredients because I find them too expensive. Pistachios, hazelnuts, pine nuts, fish, seafood. Well, a pack of pine nuts costs the same as a ready-made deli wrap that I always get. So I've decided to eat out less, cook more, and cook more extravagantly.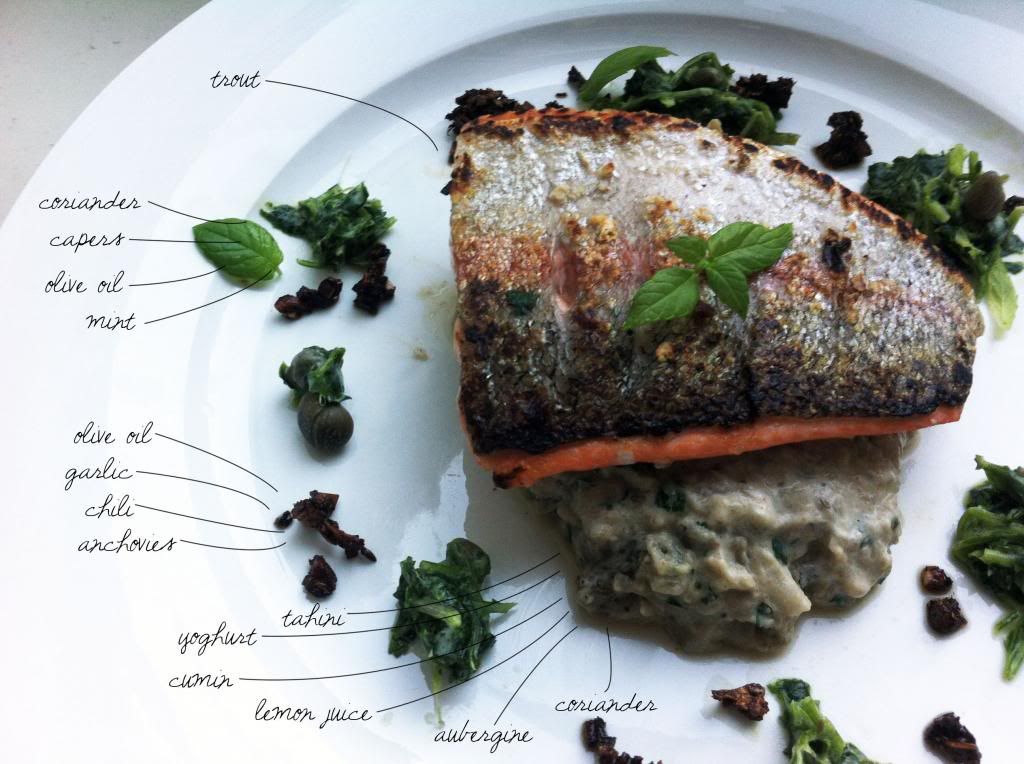 This was the highlight of my day. It wasn't a particularly nice day but this made it so much better. I was so proud of myself, because look how pretty this is! You know what, with food like this, why I'm still single I don't know.
Recipe adapted from
Great British Chefs
Serves 2
Ingredients
2 trout fillets
Fried Garlic and Anchovies
2 garlic cloves, finely chopped
1 anchovy fillets, finely chopped
1/2 bird's eye chilli, finely diced
2 tbsp olive oil
Aubergine purée
1 aubergines
2 garlic cloves
Lemon juice (amount depending on your tastes
1/4 tsp cumin
1/2 tbsp tahini
olive oil
1 sprig fresh coriander
Salsa verde
a bunch fresh coriander
a bunch fresh mint
capers
olive oil
Method
Begin with the
aubergine purée
Preheat the oven to 200C. Prick the aubergine several times with a fork and bake until the flesh is soft and the skins are blackened, about 30 minutes. Allow the aubergines to cool then peel them. Put the flesh in a colander, weigh it down with a plate and try to press out all the liquid
Put in a food processor along with all the other ingredients for the purée, slowly adding the olive oil until it becomes loose enough, and adjust the seasoning
Salsa verde
Put everything in a food processor, adjust the amount for each ingredient according to taste
Fried garlic and anchovies
Heat the olive oil in a pan and add all the other ingredients and fry until fragrant
The fish
Score the skin of the fish. Rub the fillets with olive oil, salt and pepper. Have a pan heated to high, when it's really hot, add the fish skin side down. Fry for a couple of minutes on each side

To plate
Heat the aubergine purée and place a spoonful on each serving plate.
Put little dollops of the salsa verde, and fried garlic and anchovies around the purée
Garnish with some mint leaves
Sit the cooked fish on top and serve