Is it weird to dream about the guy you like being gay? 'Twas very strange, very strange indeed. In my dream we were having coffee along with one or two of his friends, and I had discovered all these things about him that made me like him even more --- like the fact that he was good with computers (it's a strange Asian fetish on my part). Then later his friends mentioned that he was gay. Maybe it's just a sign that it's not meant to be. Honestly, he's funny, cute, and nice -- so yes, there's a high chance that he's gay.

Anyway. Moving along from my pathetic love life.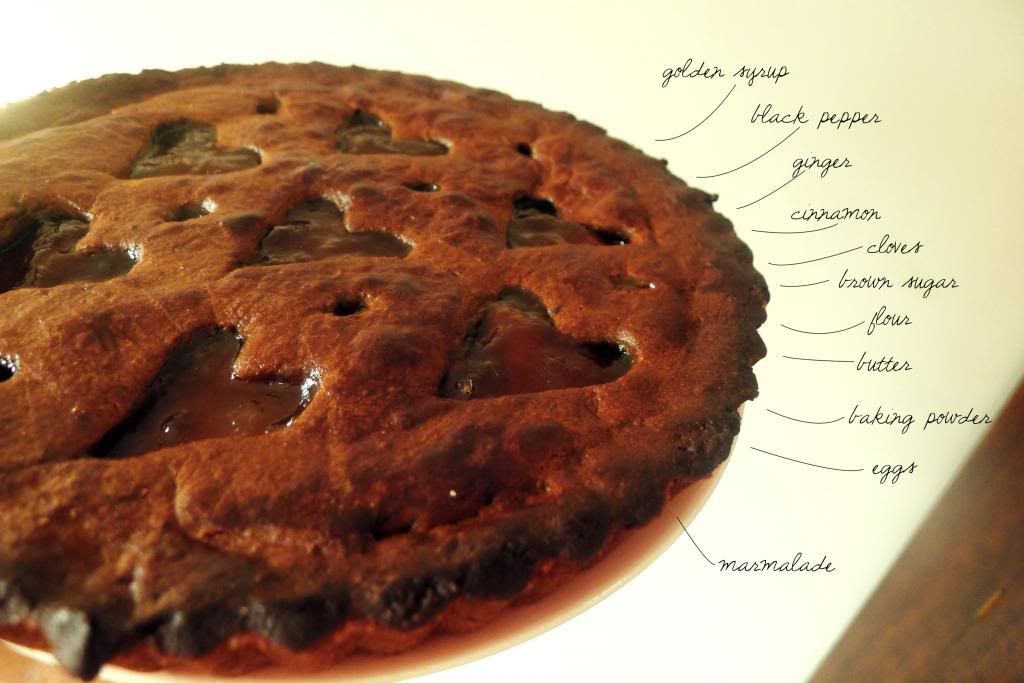 I hope you had a lovely Christmas with roasts and stuffing, sides and cakes, wine and cocktails, and friends and family.

Here's another Christmas dessert recipe. Now, I only had heart-shaped cookie cutters that I had bought as a silly 15-year-old in love, so this looks more like a Valentine's dessert. You could technically substitute marmalade with something like strawberry jam and this would look very lovey dovey. You could change the shapes according to the occasion. This would've been ideal with Christmas tree or snowflake cookie cutters.
The Christmas spirit was certainly lacking in Beijing, but you know what made my Christmas? The fact that one of my readers actually used one of my recipes for her Christmas dinner. I honestly couldn't be more honored :)
So I hope it's not too late -- and I don't believe it is, since there are still Christmas trees around and Christmas carols played on the radio -- Merry Christmas to all regular Happy Belly readers and those of you who've just stumbled upon it now.
with lots of festive love,
Maria x
Recipe from
Martha Stewart
Ingredients
2 1/4 cups all-purpose flour, plus more for work surface
1 1/2 teaspoons baking powder
1 teaspoon ground ginger
1 teaspoon ground cinnamon
1/2 teaspoon ground cloves
1/4 teaspoon freshly ground pepper
1/2 teaspoon salt
1/2 cup packed dark-brown sugar
1/2 cup (1 stick) unsalted butter, softened
1/2 cup unsulfured molasses
2 large egg yolks, plus 1 large egg white
1 1/4 cups best-quality store-bought jam

Method
Preheat oven to 160C, with rack in lowest position. Sift flour, baking powder, spices, and salt into the bowl of an electric mixer fitted with the paddle attachment. Add sugar; mix on medium-low speed until combined. Add butter; mix until incorporated, about 2 minutes. Add molasses and egg yolks; mix until dough comes together, about 30 seconds.
Turn out dough onto a lightly floured work surface. Roll two-thirds of the dough into a 12-inch round, 1/4 inch thick. Fit into a 10-inch tart pan with a removable bottom. Spread jam over bottom of shell; refrigerate until cold, about 30 minutes.
Roll out remaining dough between pieces of floured parchment paper to a 12-inch round, 1/4 inch thick. Transfer round with parchment to a baking sheet; refrigerate until firm, about 30 minutes. Cut out shapes from round with cookie cutters. (If desired, reserve cutouts. Bake for 10 minutes at 350 degrees. and sprinkle tops with confectioners' sugar.) Transfer round to a baking sheet; refrigerate until cold and firm, about 30 minutes.
Lightly beat egg white; brush over rim of tart shell. Carefully slide dough round over shell; press edges to adhere. Refrigerate until firm, about 30 minutes.
Bake until crust is golden brown and filling is bubbling, 50 to 60 minutes*. Let cool completely on a wire rack.

*my pie only needed about 30 minutes.