"Why are you baking if you're stressed?"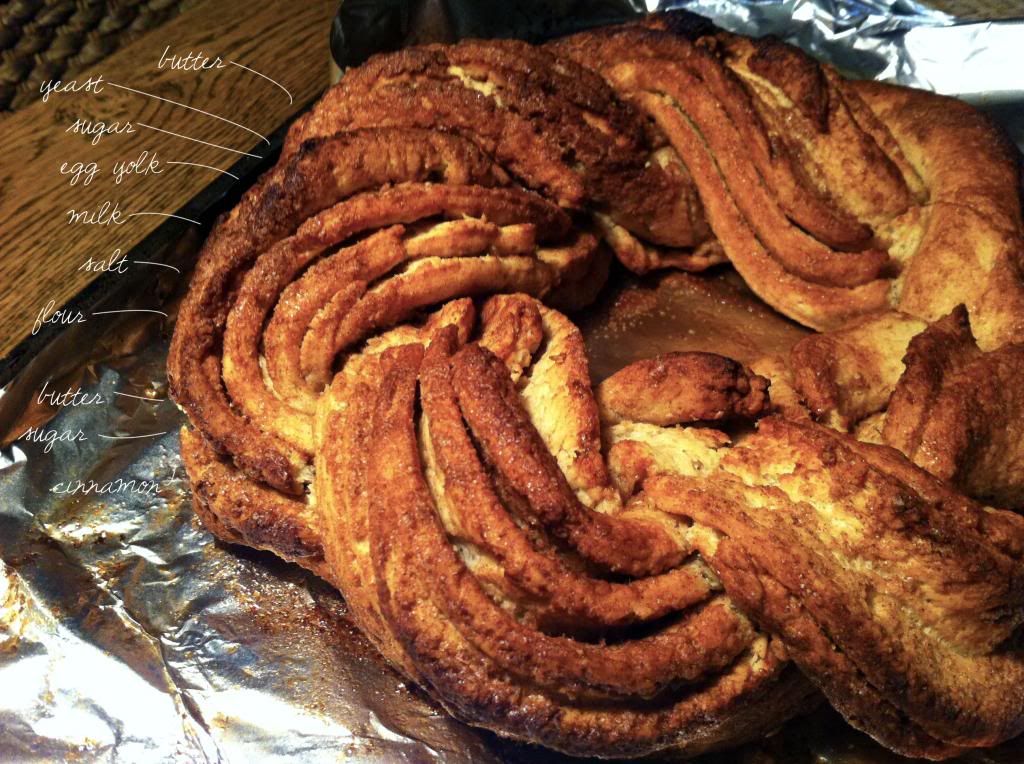 Some people obviously don't know me at all. Exam in less than 24 hours? Of course there's something baking in my oven.
It's the holiday season so I was browsing through Christmas recipes and stumbled upon this Estonian Christmas bread called Kringel. I honestly don't know the first thing about Estonian cuisine, I'm assuming it's heavily based on meat, potatoes and bread. Anyway, kringel is a beautiful twisted bread with cinnamon and sugar, which takes minimal effort and time with simple cupboard ingredients, so it was the perfect baking project the day before my exam, that is 70% of the entire module, that is actually Microeconomics, my achille's heel. Oh God. I wasted my afternoon, I should've been studying. I should be studying now.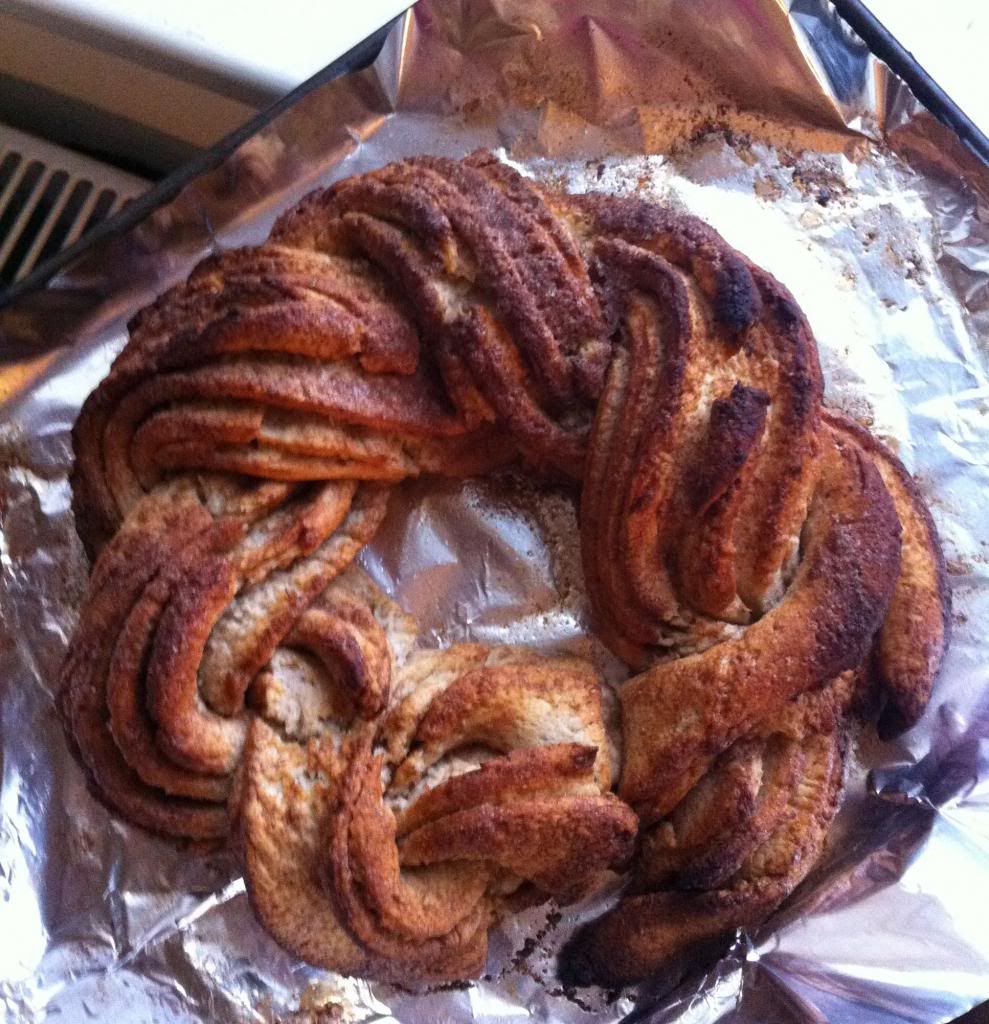 The ends didn't stick properly, but I still think it's quite pretty, especially if you ignore that part, like below.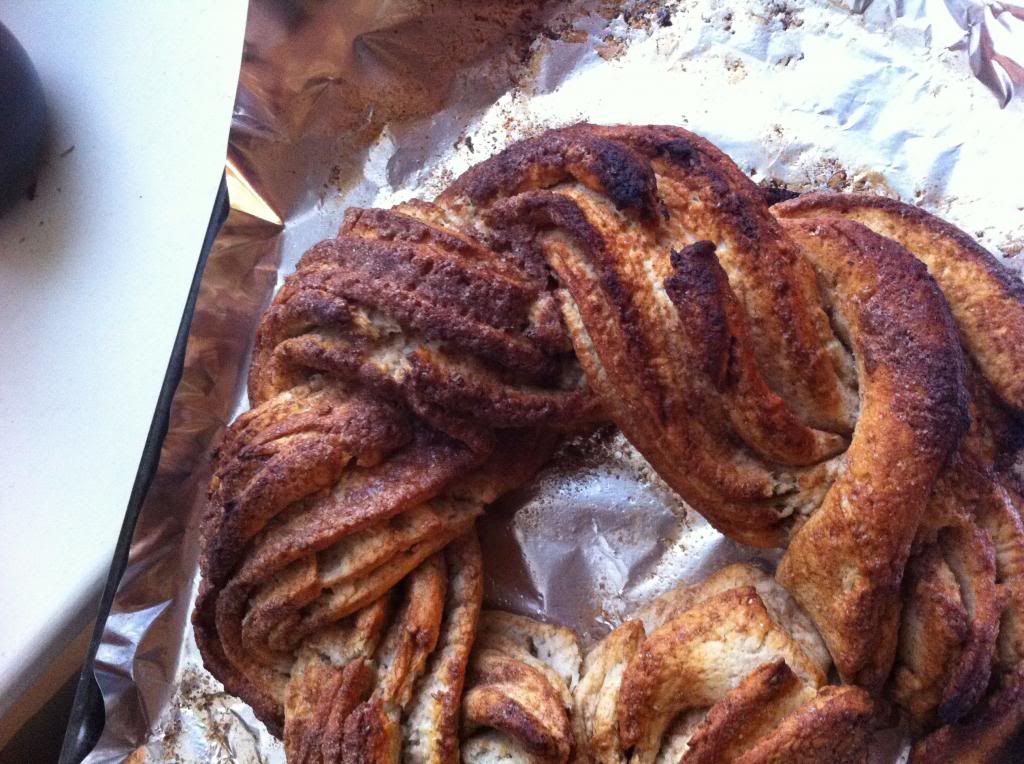 See, now it's gorgeous.
Recipe from
here
Ingredients
Dough
2 1/2 tsp yeast
1 tbsp sugar
1/2 cup warm milk
30g butter, melted
1 egg yolk, lightly beaten
3 cups flour
Filling
100g butter, melted
2-3 tbsp sugar
2 tsp cinnamon
Method
1. Combine yeast, sugar and warm milk in a large mixing bowl. Let this mixture rest until is has foamed up (5-10) minutes.
2. Lightly mix in melted butter and egg yolk.
3. Sift flour into the wet ingredients and add a pinch of salt.
4. Mix ingredients until they form a cohesive ball of dough. You may have to add more milk if dough is too dry or more flour if dough is too wet (see note above). Once you have a good consistency, knead the dough for 10 minutes. You can either knead the dough by hand or with a stand mixer fitted with the dough hook attachment.
5. Cover the dough and let rise 1-2 hours in a warm place away from any obvious drafts. While the dough is rising, mix up your cinnamon and sugar filling.
6. Preheat oven to 400°F.
7. Remove dough from the bowl and punch it down to remove any air bubbles.
8. Roll dough out into a thin rectangular sheet (about 1cm thick).
9. Spread the cinnamon and sugar mixture all over the sheet of dough, reserving a 1/4 of the mixture for the top of your kringel.
10. Roll the dough up into a log.
11. With a sharp knife, cut the log in half lengthwise.
12. Twist the two halves together, making sure to keep the pretty stripes facing outwards. Once they are twisted to your liking, connect the ends to form a circle.
13. Transfer to a baking sheet (lined with parchment paper or a Silpat) and spread the reserved cinnamon and sugar mixture on top of the kringel. A pastry brush works well for this.
14. Bake for 20-25 minutes.